Tuesday, October 02, 2007
PAVOL IS YOUR NEW DICTATOR !!!
It appears that our master, lord, and saviour, Pavol Demitra, has been named CAPTAIN of the Minnesota Wild.
Thanks to Mirtle and Roy from Wild Puck Banter for sending me this information.
SAINT PAUL/MINNEAPOLIS, Minn. - Minnesota Wild President and General Manager Doug Risebrough and Head Coach Jacques Lemaire announced today that forward Pavol Demitra will serve as team captain for the month of October. Brian Rolston and Wes Walz will serve as permanent alternate captains.

Demitra, 32 (11/29/74), collected 64 points (25-39=64) in 71 games for the Wild in 2006-07, his first season in Minnesota. Entering his 11 th NHL season, Demitra has posted 645 points (266-379=645) in 682 career games with St. Louis, Los Angeles and Minnesota. Demitra hails from Dubnica, Czechoslovakia.

Minnesota will continue to rotate its team captaincy on a monthly basis this season based on the player who has shown the greatest leadership qualities.

Rolston (October, November and January), Keith Carney (December) and Mark Parrish (February, March and April) wore the 'C' for Minnesota in 2006-07.

You may now bow down and kiss the skates he ... err ... skates in!
I am quite surprised that Pavol was given this honour, given the fact that he is a very quiet guy and has been generally shy about talking much due to his (self-perceived) lack of Engrish skills.
Pavol joined Zdeno Chara among the rare air of Slovak NHL captains. If Florida was smart, they would give their C to Josef Stumpel and we'd have a trifecta.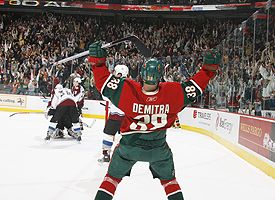 Labels: Pavol Demitra, Slovak hockey, Wild