Monday, January 16, 2006
Another look at the POOR Goalies
Back on
October 25th
, I took a look at some of the better goalies who were having a rough time of it in the "New NHL". Guys like
Martin Brodeur, Jose Theodore, Nikolai Khabibulin
, and
Miikka Kiprusoff
were struggling mightily in the first part of the season while strange names like
Henrik Lundqvist, Manny Fernandez,
and
Tomas Vokoun
were populating the top of the list along with the rejuvenated
Dominik Hasek
.
That analysis was done very early in the season, and now it's time to revisit some of those goaltenders we looked at before. As the sample size increases, the results tend to reflect the goaltender's true ability more and more. As the "New NHL" also has seen a bit of slippage in the offence, goaltender statistics, as a whole, have been getting better and stingier as the season has progressed.
I wish I could get a figure pinned down for the average Save Percentage. For now, I estimate the average SV% is around 90.3% (.903 as they put it).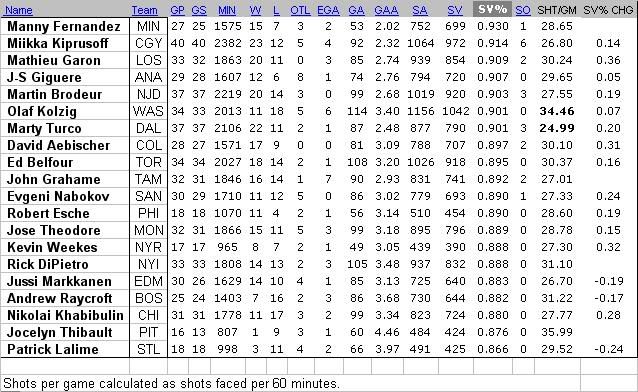 Not surprisingly, we saw a regression to the mean and most goaltenders saw an improvement (positive change) in their save percentages.
Some thoughts...
1.
Jose Theodore
- As I stated in my last analysis,
Folks, this is why the W-L record is such a poor indicator of goaltending ability. Oh, we know Jose is a good goalie normally, but he's got a 5-2 record, faces very few shots per game, yet he is near the bottom in Save Percentage. The Habs are winning, and it's not because of Jose.
Now, is it more and more obvious that Jose's big 2001-02 year was an aberration and he is not an elite goaltender. Is he good? He is, but he's not great and he's been rather below-average the first half of this year.
2.
Martin Brodeur
has brought his numbers back to around league-average, just in time to be given the #1 position for Team Canada in Turin. I feel a lot more safe now that Brodeur isn't as craptacular as he was earlier in the year, although he still looks shaky to me.
3. While
Miikka Kiprusoff
isn't setting the league on fire, he has brought his numbers up and he's proven that last year was no fluke. He's the real deal, although he has yet to express a single emotion.
(The Chuck Norris of goaltenders?)

4.
Olaf Kolzig
hasn't murdered any of his defensemen yet. In fact, the Capitals have cut their shots against per game by 4 since the last update. Kolzig still faces a boatload of shots, but he faces less than
Roberto Luongo's
35 per game.
5.
Nikolai Khabibulin
- Nothing's changed. He still sucks and he's grossly overpaid.
6.
Mathieu Garon
- He made a huge leap after some early season struggles and is now among the league's better netminders.
7.
Patrick Lalime
and
Jocelyn Thibault
- Both are out of the NHL at the moment (for different reasons) and both actually managed to do worse as the season progressed.
8. How can the Oilers still be in the playoffs ahead of the Minnesota Wild despite having the worst goaltending this side of Armenia?
Jussi Markkanen
had a decent start and then got worse, and now
Ty Conklin
is back and he just continues to suck. Meanwhile,
Manny Fernandez
has stats that make other goalies jealous, yet the Mild are looking up at the Oilers. Hmm...
9.
Rick DiPietro
and
John Grahame
- I didn't include them in my last analysis, but I did include them this time to show how goaltending is helping to kill their respective clubs. In the case of the Islanders, they give up over 30 shots a game and get poor goaltending for a real double whammy. The Bolts just get bad goaltending from John Grahame, who might end up being the default #1 goalie for
Team USA
. HAHAHAHAHAHAHAHA!!!
The stat that really pops up is that John Grahame has 7 empty net goals against. They don't count in his GAA, but it shows that Tampa Bay is really losing a lot of the close games that they were winning last year.
10.
Andrew Raycroft
- Like the rest of the Bruins, it's just been down down down to the pits of Stankville.
I'd love some input and analysis from my peeps. Any excuses why your goalie is sucking?
Comments:
Brodeur's play has improved tremendously since the departure of the 2 M's (Malakhov and McGillis). Elias helps him get wins, but those shutouts came from solid D.
Elias will definately be the first looked at for any type of replacement for the Czech team, although its entirely possible he says no for the sake of not over exerting himself too early into his comeback.
You know who seems really pedestrian this year? Belfour. Now I don't like him, or especially his team, but I respect his ability to win games on his own tremendously. This year however is really looking like it may be one of his last (at his age, it should be expected).
I still think I was right at the beginning of the year in saying that the Leafs should have traded him to a team like Tampa before the season starts to get maximum value / cap space before all the signing frenzy.
Telquvist (Jes is gonna love that misspelling) seems like hes gonna be the man in T.O... that is, until the 2 leafs goalies who played in the WJC come up to the big team.
- NJDevilsFan
Post a Comment
<< Home