Tuesday, October 25, 2005
A look at the POOR goalies!
My pal,
Chris "CK",
commented on the fact that some of the NHLs usual star goalies are having very tough starts to this NHL season
What do you think of the new NHL rules? Gotta love the fast pace of the games, thanks to the removal of the red line and the referees calling everything in sight. ;)

But what do goalies think? With their defensemen unable to clear the front of the net as in days past, and the reduction in equipment, many of the NHL's top goaltenders have struggled thus far

Albeit most of these guys had limited action the past year and are still getting used to new teammates, but still, when the only consistent goalies thus far have been Luongo and Hasek - it has to be a concern for team's.
Well, let's look at the magical spreadsheet I whipped up and have a look at some struggling goaltenders. Of course, these are only small sample sizes, but it won't stop us from analyzing the state of things.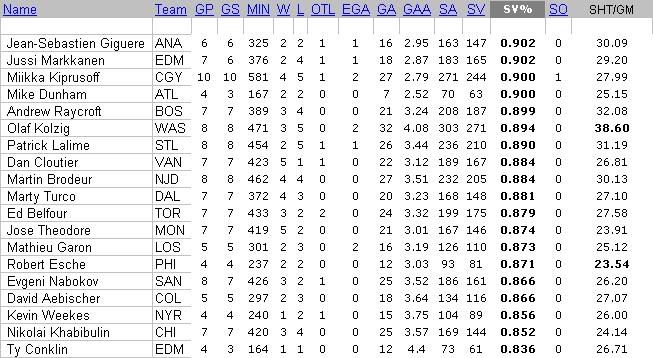 J-S Giguere
- He was picked by many to struggle without his massive pads. He is also facing a lot of shots per game behind Anaheim's 'improved' defence.
Jussi Markkanen/Ty Conklin
- Conklin was worse than Ashlee Simpson's new album...the Oilers recalled an ECHL goalie to replace him. Markkanen was good in Europe last year and I don't think the Oilers should give up on him yet. He's really their best hope right now and his numbers aren't horrible.
Mikka Kiprusoff
- Has the magic pixie dust worn off? Kipper started poorly and just managed to crawl back up to the .900SV% mark
Olaf Kolzig
- Poor guy faces way more shots per night than any other goalie. Kolzig might arguably not be a good goalie these days, but I don't think even Hasek in his prime would have been able to carry the Crapitals to any decent record. Nobody even comes close to Kolzig's 38 shots against per game.
Dan Cloutier
- Same old, same old.
Martin Brodeur
- I love to say 'I told you so', and I bet the year-long layoff has hurt him somewhat. It's interesting to see the Devils now let over 30 shots against per game, so now Brodeur has entered into territory he's never come close to before. Without the supersolid defence in front of him, Brodeur is struggling mightily.
Ed Belfour
- He's old, his back is creaky, and he missed a year. People also forget that the Leafs have a pretty shaky defence and Wade Belak is getting killed in the New NHL. Also, this Bryan McCabe love needs to stop. The guy may be scoring a ton of points these days, but his defensive coverage is sometimes as bad as Bryan Berard's.
Jose Theodore
- Folks, this is why the W-L record is such a poor indicator of goaltending ability. Oh, we know Jose is a good goalie normally, but he's got a 5-2 record, faces very few shots per game, yet he is near the bottom in Save Percentage. The Habs are winning, and it's not because of Jose.
Robert Esche
- Next to Khabibulin, Esche is the biggest goaltending disappointment this year. The Flyers really protect him well but he's been a total sieve behind a strong defensive club. Esche may have the ball taken away from him if he doesn't shape up soon.
Kevin Weekes
- Look, If the Evil Swede is playing great, give him the #1 job for awhile. There isn't always a need to have "THE #1 MAN" on a team...look at Minnesota! If Weekes is cold right now, he shouldn't be playing. If he gets hot later, give him the run of things.
Nikolai Khabibulin
- Wow, he's turning out to be an ever bigger waste of money than I imagined! Chicago is actually doing well with prevent shots against, but Khabibulin is sucking the life right out of that team. If he's not killing them in their salary structure, he's killing them in the nets.
We'll check back after a more substantial number of games have been played to see if any of these trends will hold. As the guys who sat out a year (
Brodeur, Theodore
) get back into playing shape, we would expect them to revert back to some level of 'normalcy'. Then again,
CuJo
is doing great behind a crappy Coyotes club and he's got the same level of rust to shake off.
We'll also see if
Olaf Kolzig
finally snaps and kills one of his own defensemen.
Comments:
Theodore didn't sit out a year. He played 17 regular season games in Sweden as well as a couple of post-season rounds.
Theodore tends to get off to slow starts and then finds his game by November. We'll see if that's the case this time around or if he's really struggling under the NHL rules and regulations regarding goalie equipment.
The good thing for Montreal is they now have offensive depth they were lacking in previous seasons when Theodore's slow start would've burned them (2002-03 season for example). If he gets his groove back, the Canadiens could become a dangerous hockey team.
Post a Comment
<< Home