Friday, July 29, 2005
NHL Entry Draft: Pre-Draft Roundup
Lost in the midst of the off-season buy-out craziness and
Bob Goodenow's
resignation is the fact that the
NHL Entry Draft
is upon us and it's not just the
Sidney Crosby
inauguration.
(NOON EST/9AM PST)
If you haven't been keeping up with news in the world of prospects, I've got some goodies and links of interest for y'all.
For me, the real story of interest will be where hometown hockey hero
Gilbert Brule
ends up. I fear that he will end up in
Carolina
,
Anaheim
, or some other bushwhacked hockey market where it will be hard to follow him and really get excited when he pumps in goals in front of just 700 fans.
(Yes, I know these markets have plenty of great fans, but it is just not possible for me to ever get excited about them in any sense)

Can my Jedi vision of Gilbert Brule in a Canucks jersey become reality? The Canucks, who have the 10th overall pick, are rumoured to be
talking to teams above them in order to trade up.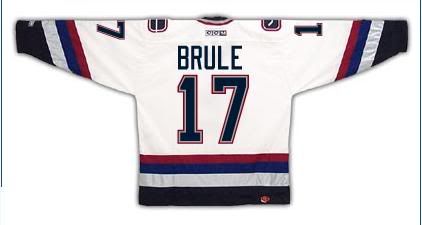 For more on Gilbert Brule
:
1.
An NHL.com feature
2. My musings and reports from the
CHL Top Prospect
s game here in Vancouver, in which Gilbert Brule scored
3 goals and was named the game's MVP
:
Part I
Part II
Top prospect
Benoit Pouliot
, who is NOT as good as Gilbert Brule
*ahem*,
does score points for entering the world of blogging. Check out his
NHL.com
blog
here!
Hockeysfuture.com
, my old haunt, has their annual
Draft Centre
, which is a great
one-stop shop for all of your drafting information.
HF.com has previews for all teams, including one for my beloved and troubled
St. Louis Blues
. Loving this team is sort of like falling in love with a prostitute. ("Pretty Woman", hockey style?).
HF hasn't yet posted my Slovakian prospect profiles, but those should be up soon. I'll also chip in with a complete
Slovak Draft Review
after the draft is complete.
McKeen's Hockey
is also a great place for scouting reports and other drafting news. Most of the articles are subscription-only, but here are some good freebies
1.
McKeen's Mock Draft
2.
McKeen's Draft Awards
The NHL's
Central Scouting Bureau
has released their final rankings. As always, there are some very questionable calls... I mean
Devereaux Heshmatpour
at #68 for NA Skaters and
Danny Syvret
at #72? I know Syvret is a whole year older, but why would any NHL team touch Heshmatpour with a ten-foot pole until the final round? The CSB has always had a woody for size, and their rankings this year are no different. If the NHL is truly in for changes, then I would be even less inclined to take a plodding ogre like Hestmatpour.
North American Skaters
North American Goalies
European Skaters
European Goalies
International Scouting Services
, a fine firm I do some writing for, has also released their Top 15 to the public. They publish an exceptional draft guide every year, which is a great purchase for anyone who is deeply interested in the NHL Entry Draft. ISS doesn't fall into the same trap as some of the other scouting bodies, and their call of
Andrej Meszaros
as the #4 prospect heading into last year's draft was ballsy and pretty much spot on.
You can see a sample of a past draft guide
here.
ISS Top 15:
#1. Sidney Crosby C
#2. Benoit Pouliot LW
#3. Jack Johnson D
#4. Gilbert Brule C
#5. Bobby Ryan RW
#6. Anze Kopitar C
#7. Marc Staal D
#8. Ryan O'Marra C
#9. Marek Zagrapan C
#10. Carey Price G
#11. Luc Bourdon D
#12. Martin Hanzal C
#13. Jack Skille RW
#14. Alex Bourret C
#15. Ryan Parent D
Finally, I want to give some props for a deserving kid who likely won't be drafted:
Stanislav Lascek.
I have
vented in the past
about Lascek and the fact that every single NHL team passed on an exceptional offensive producer...and I still don't get why teams are so afraid to use even a final-round pick on the guy.
ISS certainly agrees with me that Lascek is a fine talent. Here is an excerpt from their 2004 Draft Guide:
If character, work ethic, determination, and oh yes, throw in unquestionable leadership qualities count for anything, then this kid will be an NHL hockey player, someday. Here at ISS we will be the first to admit, Lascek has deficiencies, namely in the skating department. However, we have to admire Lascek's courage and conviction to follow his dream of playing in the NHL. Living in a new country, learning a new language and missing the first 9 games certainly was a difficult beginning for Lascek. He was a guy who had areas of concern and requires some hard work on and off the ice to be able to make it as an elite player. He is steadily demonstrating will, spirit, and drive to achieve this end. That commitment to be a player is what a lot of teams are looking for these days. You can't really get by on talent alone anymore, although there are some exceptions. By and large, you not only have to have the talent but it is also necessary to have passion and drive to self-improve in order to excel at the highest level.

A couple of ISS scouts have made the comparison to Brad Richards, in his early junior hockey career as a skater requiring some work, and Richards hasn't turned out too badly. One ISS scout Bobby Dunn, should know what he is talking about, considering he helped Richards with his skating when he attended Andrews & Dunns Hockey Growth Program, one of the most respected in North America, for 11 years. After corresponding with Lascek;s agent Mike McArthur, along with assistance from his junior team, Stanislav's plans are to attend Dunn's program this summer.

Despite his ranking, if the amount of inquires from NHL clients, requesting information on Lascek's progress this season is any indication, he will someday have the opportunity to live out his dream.
Lascek, unfortunately, will probably have to settle for trying to scrape together a free agent tryout with some NHL club. Could has be passed by again? It's just...hard to believe.
Comments:
You are right. I am sorry. I forgot the Hurricanes only have
7
seasons ticket holders ;)
(lighten up people!!! I thought the Russians were the humourless ones)
Still, my original point holds that it will be very hard to follow Brule and get behind him when he's playing in a 'foreign' and quiet market in the southeast USA. You might feel the same way if Marek Malik was traded to the Anaheim Mighty Ducks.
Post a Comment
<< Home