Thursday, January 20, 2005
CHL Top Prospects Game Musings: Part I
Hometown Hero, and Vancouver Giant,
Gilbert Brule
sent 16,331 fans home happy as
Team Cherry beat Team Davidson by an 8-4 score.
Don Cherry
did his best to showcase Captain Brule for the fans and the scouts, as he gave Gilbert at least 20-25 minutes of ice time. Brule certainly took the bait and potted 3 goals and assist, along with many big hits, to thrust himself back into the
"#2 Behind Sidney Crosby"
spotlight. His team-mates certainly did their part, as they worked hard to get Brule the 3rd goal into an empty net. You can read more on Brule's performance
here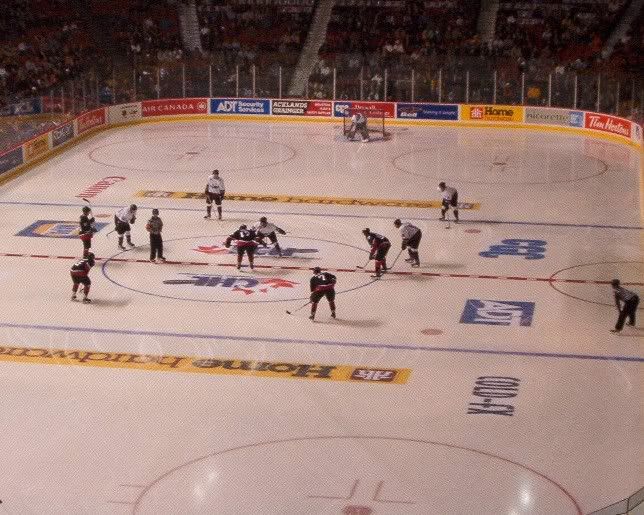 This was certainly no typical 'exhibition' type game as there was lot of hitting during the game, plus an usually high attention to defensive play (Both teams barely cracked 30 shots apiece). Brule knocked the opposing captain,
Bobby Ryan
, out of the game in the first period with a thundering bodycheck. Although there were no fights (or even scrums) during the game, there was lots of physical contact nonetheless.
Sights, Sounds, and Observations from the CHL Top Prospects Game:






1. While walking around the concourse, I saw a large group of agents (all in grey power suits) was standing around talking, laughing, and having a gay-old-time. I bet they were comparing fish stories about how much commission their clients will pull for them.

2. Islanders GM Mad Mike Milbury walked right in front of me…while blowing his nose. Thanks for the germs, Mikey!

3. Best Sign of the Night: CROSBY FEARS BRULE! – The young kid with the sign was walking around the concourse and holding up the sign like a crazy street preacher (THE END IS NIGH!), which totally made the experience. You had to be there.
Worst Sign of the Night: Don for Premier - *YAWN*

4. Speaking of concourses, there is a reason why new stadiums have 2 or 3 of them…1 is simply not enough for 16,000 people. Even cooped-up chickens have more room to move than people in the Pacific Coliseum concourse during the 1st intermission.

5. They gave out Frisbees to the crowd during the 2nd intermission. As you can imagine, they all ended up back on the ice during the 3rd period. Didn't they foresee this? DON'T GIVE OUT THROWABLE OBJECTS BEFORE OR DURING THE GAME!!
It was a nice touch when the players came out to help clean up the mess.

6. After the game, we see John Davidson handing Don Cherry a big wad of cash after the game (settling their side bet). Cherry then goes and gives a bill to one of the kids on his team (not Brule). According to the post-game show, Cherry gave Dan Ryder $50 since he was benched in favour of Brule in the dying minutes of the game (Operation: Get Brule a Hat-Trick).

7. Please retire the 'Thunder-Stix'. They handed those stupid things out and they are incredibly annoying. Half of them ended up on the ice, anyway…

8. Whoever was controlling the video/replay board should be fired. Instead of showing instant replays of the actual plays, we were treated to random crowd shots of people eating popcorn or talking on their cell phones. It was quite frustrating not being able to take a second look at some of the big hits and nice goals.

Now, for some of my own awards:

MOST SURPRISINGLY GOOD PERFORMANCE: Radek Smolenak, Team Cherry
Smolenak was a last-minute replacement and had some instant chemistry with Marek Zagrapan. Both players finished with 1 goal, 1assist, and +3 in the game…all of this despite the fact that coach Don Cherry gave them only about 8-9 minutes of ice time the entire game

Side Rant: Don, if you don't want Europeans on your team, don't pick them! It's obvious his anti-European bias kicked in once again as he gave these two kids the absolute crankshaft. Marek Zagrapan is a Top 10 prospect, and he played about as much as a 4th-line goon.

MOST UNINSPIRING PERFORMANCE: Wacey Rabbit, Team Davidson
The short dude with the 'Cwazy' name won the Fastest Skater event of the Skills Competition, but he certainly didn't use that famed speed during the game. I had to check the game program in the 3rd period to even make sure he was out there…he was absolutely invisible. Looking at the boxscore, Wacey finished -6!!! He did nothing to abolish any fears that he is a junior-only star.

WORST PERFORMANCE: Jean-Philippe Levasseur, Team Cherry
Team Cherry's goalie for the 2nd half of the game, Levasseur was just plain bad in every respect. Along with 3 exceptionally weak goals, JP showed horrible reflexes, rebound control, positioning, and reactions. The square Garth Snow-like shoulder pads certainly didn't look good on him, either. If I based my scouting on one game, I wouldn't take this guy...even in the 9th round.

Tomorrow, I'll have some more observations and scouting notes on particular players I was watching.