Friday, June 29, 2012
The Peter Principle Alive and Well in the NHL
(To the 4 people who might read this: Yes, I decided to do a blog post. I'm not 'unretired' so much as I just had a need to write *something*. It's rusty, and not particularly intelligent, but at least I've gotten it out of my system)
If you haven't heard the term before, the Peter Principle is a belief that in an organization where promotion is based on achievement, success, and merit, that organization's members will eventually be promoted beyond their level of ability.
If you believe *snicker* that NHL front office jobs are placed based on merit, then this principle makes a lot of sense.
I realize running a large hockey organization is a lot more involved than the Sim Leagues I used to be in. That said, the recent behavior of 3 particular NHL GM's just proves that random internet bloggers, or Michelle Bachmann, could do a far better job running a hockey team than some of the idiots that get hired.
The GMs in question? Charles Wang's puppet (Garth Snow), Scott Howson, and Jay Feaster.
Wang Dang Doodle
It's old news now, but the Isles did, in fact, offer their entire 2012 draft to the Dinner Jackets for the chance to pick 2
nd
overall. (
Source: CBC
)
The Isles had the 4th pick, so they basically wanted to gut their future farm system to move up two whole spots! Woo!
Now, if this was the chance to pick a Sidney Crosby, this would make some damn sense. Hell, ending up with a Chris Pronger in exchange for a bunch of role players and never-made-its would also make sense.
Ryan Murray? He hardly looks like a build-a-franchise-around me defenseman that you'd trade your farm for. He *might* pan out that way, but I *might* also have Natalie Portman and Mila Kunis offer to reenact their love scene from The Black Swan in my living room.
Chances are long, I suspect.
Besides the obvious fact that gutting your entire future to move up from #4 to #2 is folly, especially for a club in constant need of prospects and assets, the optics of this deal are even more of a killer for the Isles.
Think about it? Haven't Snow/Wang been doing a pretty solid job the last couple of years? They locked up Tavares, Moulson, and Nielsen, and were keeping on a steady path to respectability.
This move, unfortunately, clearly reminds the rest of the league, especially free agents, that the Isles are run by a couple of batshit-crazy loons.
"Oh yeah, this is the team that gave Rick DiPietro 15 years to play 30 games! I really wanna sign there!"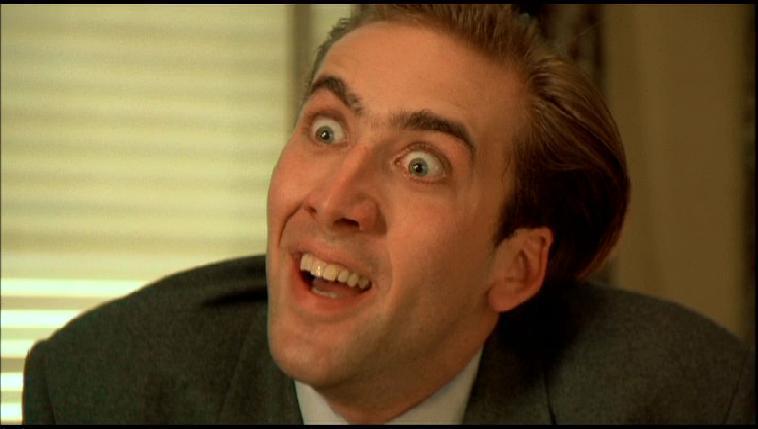 (Isles GM Garth Snow, pictured)
Howson Misses His Chance
Scott Howson, only the second GM in the illustrious history of the Columbus Dinner Jackets, has done a great job of ruining running the club as well as Doug MacLean did before him. Not many GM's would trade a mint for the worst regular defenseman in the NHL (Jack Johnson) and still be employed.
Howson had a golden opportunity to stack his club for many years to come, and chose to play it safe, as it were. Keeping the #2 pick was definitely 'safe', since being involved with such an insane trade would only look 'weird', for lack of a better term.
How can a team as piss-poor as the Jackets turn down this many picks? With that many picks, and that many lottery tickets, you are sure to hit a few gems and get some decent players. Moving down to #4 was hardly that much of a difference in this draft, and the BJs would have basically doubled their chance to produce some decent players in a few seasons.
Howson, alas, a fellow who would have trouble graduating from the University of Phoenix, showed just how in over his head he really is.
Feast(er) Your Eyes on Duh
While the mess in Calgary is not all Jay Feaster's fault, the son of the Pillsbury Dough Boy and Susan Boyle is doing his best to ensure the Flames will wallow just out of the playoffs for the foreseeable future. Sure, Canucks fans are elated, but it's sad to see, nonetheless.
"Poop's coming out!"
That's right, the team that hasn't made the playoffs in three seasons has a higher payroll than the Vancouver Canucks! This even takes into account the subtraction of Olli Jokinen, one of their better offensive forwards

(Hard to believe, but he was fairly good last season

)

, who is going on the UFA market.
What great moves has Feaster made?
1. Signing Dennis Wideman to a 5-year deal giving him $5.25/mil per season! Not content with one offensive-minded marshmallow (Jay Bouwmeester, who left his scoring touch in Florida), the Flames vastly overpaid for a guy who is easier to beat than Rihanna.
Sure, some other team would have likely overpaid for flashy offensive stats, but that doesn't mean the Flames should have. Oh, and let's not forget the no-trade clause given for the full term of the contract. Way to handcuff the club, Jay!
2. Re-signing Lee Stempniak for a 2-year deal giving him $2.5/mil per season.
As any Blues or Coyotes fan can tell you, Lee is great for a scoring burst for about 2-3 weeks a year, and then goes back into hibernation for the rest of the winter. Lee doesn't add much value other than his goal-scoring touch, and the Flames vastly overpaid for an empty player.
3. Re-signing Cory Sarich for a 2-year deal giving him $2/mil per season.
Even in his Tampa days, Sarich wasn't worth $2mil/season, and now that he's old enough to remember how to work a VCR, he's an expensive pylon.
The Flames already appear to have 5-6 other defensemen on one-way contracts, so the Flames have basically given a good salary to a 3rd-line pylon and will have to cut a contract somewhere else. Who the hell else would have given Sarich $2mil? Ugh.
If you count Wideman vs. Jokinen for wash (being generous), the Flames have basically spent a hefty fortune for a team that has a very slim shot at the playoffs.
You know Jay Feaster reminds me of? The idiot who actually pays for porn on the Internet.
…and I'm spent…
Labels: blue jackets, Charles Wang, Flames, Garth Snow, idiots, Islanders, Jay Feaster, Scott Howson
Comments:
I like the post. It got me thinking of something I want to write on my blog. When you were talking about the Islanders drafting fourth there. Moving up to get Murray for a small price wouldn't of been a bad idea. But Like you said this is the Islanders. And who did they grab with that 4th overal pick. Griffin Reinhart. I watched him several times this year and he is a solid AHLer to be nice. Boring as a pylon. Dumba, Ceci, Rielly, hell even Trouba would of been a better choice. But like you said the Islanders and drafting Dipietro. Also a team that had Luongo. Wang has the money to blow.
Post a Comment
<< Home