Wednesday, October 10, 2007
Coming to the Big Screen: Hockey's Robin Hood
by Jes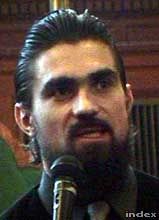 Julian Rubenstein's book, titled "The Ballad of the Whiskey Robber",
was one of my favourite hockey-related reads of all time
. Although hockey is not nearly the central theme of the book, the story of Attila Ambrus and his robbery escapades, combined with the region's history, interesting characters, and Hungary's introduction to Capitalism, was very enticing and engrossing.
Well, the story obviously caught the eye of Hollywood's Elite, and it appears that Ambrus' story
will be made into a movie, starring Johnny Depp, as the Whiskey Robber.
Ambrus and Depp? Yeah, I can see the resemblance. I just wonder if Depp will try at all to have some kind of Hungarian accent. There is certainly no way in hell he'll ever learn the language.
Johnny Depp has signed up to play a Hungarian bankrobber in a new movie.

The film is based on the bizarre true story of a former ice-hockey goalie who turned to crime and became a folk hero in his native country thanks to his charm and gentlemanly conduct.

The 41-year-old Finding Neverland star will play Attila Ambrus in an adaptation of Julian Rubinstein's bestselling book The Ballad of the Whiskey Robber set in the 90s in post-communist Hungary.

Ambrus, a Transylvanian refugee, turned to robbing banks after failing at several jobs including gravedigger, pelt-smuggler, church painter and a pro-ice hockey player.

Despite robbing nearly 30 banks in six years, Ambrus, also known as the Whiskey Robber, became a folk hero inspiring songs and newspaper tributes.

He was always unfailingly polite to bank tellers, even bringing them roses, and thoughtfully left champagne for harassed police investigators.

Obviously, I'll be looking forward to this movie. Depp is a pretty damn good actor, and a fine choice to play the Attila Ambrus. It's quite a testament to the book that an A-list actor is quite happy to play the part.
Ambrus recently turned 40 behind bars (October 6th), and Rubenstein went to prison to visit and interview The Whiskey Robber.
You can view the video over at YouTube.
For the short-form details of Ambrus' life,
check out VakFan's post.
If you are interested in getting the book,
check out this Amazon.com site.
Labels: attila ambrus, Hungary, Movies