Tuesday, May 15, 2007
Another MSM Cheap-Shot at Hockey
by Jes
While surfing around ESPN's Page 2 site, I came across this little cartoon at the bottom of the page.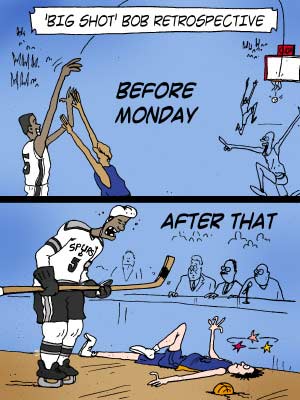 As you may or may not know,
Robert Horry
committed a cheap and violent technical foul on the Phoenix Sun's (and Canadian)
Steve Nash
.
So, the cartoonist makes a point about his reputation before and after the incident.
Fine.
But why is Robert Horry, a basketball player, wearing hockey equipment?
What does Horry's cheap shot, or Robert Horry, have to do with hockey?
In a hockey game, you'd get your clock cleaned if you ever pulled such a stunt. In the NBA? You get a few slaps and growling, but nothing much.
To say that hockey is the realm of this sort of activity is just plain stupid. Basketball, Baseball, and Football all have their fair share of cheap shots. Is there an act more cowardly than a bean-ball?
Just another example of the idiots in the media making hockey to be the 'bad guy' sport. We're all sick of these no-nothings who only ever mention hockey as
1. A sport nobody cares about.
2. A violent bloodbath where everyone hacks and whacks people to death.
It would be the same as a hockey cartoonist drawing Ray Emery as a gangsta rapping NBAer the next time Emery goes bonkers on an opposing forward.
Labels: ESPN, mainstream mediots, Steve Nash
Comments:
Hockey is the best sport there is. I am only 11 and I play defense. I love hockey you can let your feelings fly and have the great feeling of winning I don't get why people think its stupid its fun and every other hockey player out there would agree with me.
Post a Comment
<< Home