Monday, February 26, 2007
Canucks Getting Busy as Trade Deadline Nears
by Jes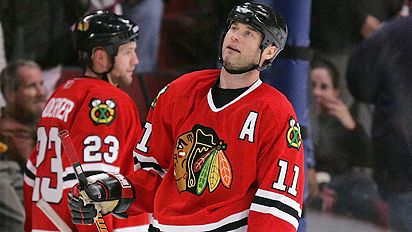 The
Vancouver Canucks
have made a nice trio of moves today to improve their playoff aspirations.
1. They waived
Marc Chouinard,
the lanky and sluggish offensive-challenged center who was sucky on faceoffs, despite that being his best asset. Marc was one of the most anonymous Canucks of all time and won't really be missed. He was a decent PK specialist, but still a disappointment overall.
2. The Canucks sent a 2nd round pick in the 2007 Entry Draft to the Chickenhawks for
Brian "Smoke and Mirrors" Smolinski
.
3. The Canucks sent a 2nd round pick in the 2007 or 2008 Entry Draft and a 4th round pick in the 2008 Entry Draft for ex-Canuck
Brent Sopel
.
---
Smoke and Mirrors was a player I derided for many years (hence the nickname) for his rather lazy work ethic and non-chalant attitude on the ice. I must admit, however, that he's still proven to be a decent 2-way player who adds some good experience and can play decently in any situation.

YEAR     TEAM GP G  A  PTS +/- PIM
2005-2006 OTT 81 17 31 48   8  46
2006-2007 CHI 62 14 23 37   10 29

Sopel? He was an adventure when he was here the first time, and he has some of the best hockey hair of all time. I remember when he bulked up 30 pounds over one summer *cough*steroids*cough*, and came back skating slower than Wade Belak after drinking 30 gallons of water.
Still, he was never better then he was with the Canucks, and may be able to find a comfort zone here. We don't really need his right-handed blast, but he offers a decent 2-way d-man that is miles better than Rory Fitzpatrick and more reliable than Lukas Don't Krajicek. I always felt Sopel was far too maligned during his tenure here, as people focused too much on his giveaways and not enough on his good aspects. Basically, he's a lot like Bieksa without quite as much fiestiness.

YEAR      TEAM GP G  A PTS +/- PIM
2005-2006 LOS  11 0  1  1   -4  6
          NYI  57 2  25 27  -9  64
2006-2007 LOS  44 4  19 23   2  14
Overall, the Canucks improve offensively, defensively, and deal away only draft picks. This was all made possible as Ryan Kesler was put in the long-term DL, negating his massive salary from the Canucks' cap. Given the insane market these past few days, the Canucks come out pretty well compared to the Thrashees.
Two thumbs up!
Labels: Brent Sopel, Canucks, Marc Chouinard, Smolinski, trades
Comments:
On the same night #11 is to be retired in Edmonton, will someone wear HIS jersey in Vancouver. Ah, irony.
Post a Comment
<< Home