Sunday, February 25, 2007
Atlanta: The Tradingest City in the U.S.
by Greg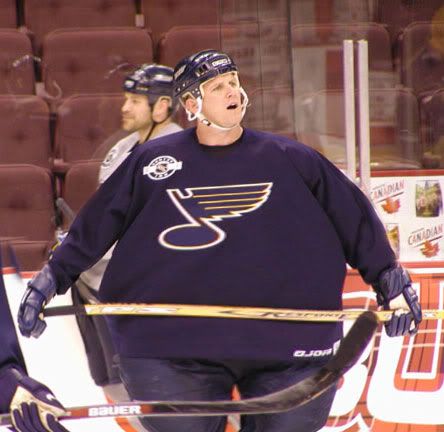 Gosh, the things you miss with a hangover. I woke up to find the Thrashers have now dealt a handful of picks and Glen Metropolit for
Keith Tkachuk
.
Disappointing for the legions who shelled out for a Metropolit jersey, but other than that, it's a lot better than last night's deal. I'm not a big fan of Tkachuk's personality, but he can score, he can play some center, and what else was really out there? He's never had much playoff success, true, but ... oh, hell, I'll stop this before I depress myself.
Waddell's obviously hell-bent on making a splash. And keeping his job. Figure this is it now -- I don't think there's any cap space left.
---
Jes's thoughts
The Flyers made up for a very puzzling move by totally larcening the Thrashees out of Braydon Coburn. Why did the Flyers trade for Zhitnik in the first place? Well, perhaps they were ahead of the game and saw they could flip Zhitnik into something better at the deadline. We may see the lower ESCHElon teams like the Flyers use a bit of cap space, trade for vets early in the season, and flip them later for a good return.
It's just amazing how the market for rentals has skyrocketed like real estate prices in Vancouver.
Now? The Blues seem to be the best at milking the system. They got a 1st rounder for
Doug Weight
last year (and then signed him back), and got another 1st+benefits out of
Keith Tkachuk
. I wonder how much the two-headed Pleau/Davidson monster can get for
Bill Guerin
.
Labels: blues, thrashers, tkachuk, trades
Comments:
The one thing that STILL frosts my ass about the Weight trade is that he would have happily re-signed with the 'Canes....but JimR wouldn't even give him the time of day.
Post a Comment
<< Home