Thursday, January 25, 2007
Kari Lehtonen: The Role Player
One of my other hobbies in life is video games, especially Role Playing Games (RPGs).
That's right, I'm a geek and you love me for it.
You normally wouldn't associate any professional athlete with RPGs. They don't usually have time between practices, games, interviews, groupie therapy sessions, club hopping, and eating to play these type of games, nor are hockey players usually so geekish.
Well, there's always an exception to every rule and that would be the Atlanta Thrashees' own
Kari Lehtonen
, the
Finnish Groin Pull
.
It seems he's a big fan of
Final Fantasy X
and
X-2
, and had two of the game's female leads painted on his mask. Tres cool.
Yuna: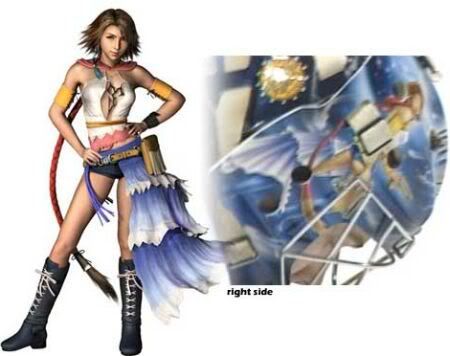 Rikku: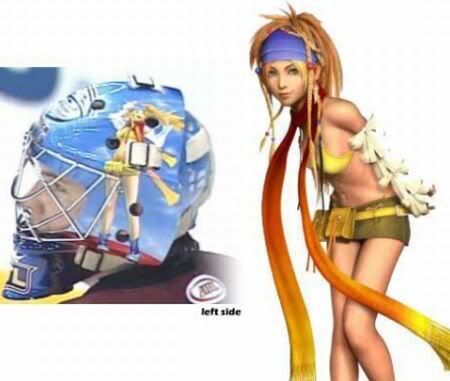 (Edit: As per party pooper and Thrashers employee Ben Wright emailed me:

I hate to burst your bubble, but Kari got that mask made without ever playing Final Fantasy. He just liked the art. Now he has the Kill Bill women on it.

And hooray for Kari- who has been groin injury-free for 13 months.)
Well, after my voodoo club meeting tonight, you can expect something to snap! >:(
Labels: hockey masks, Lehtonen, video games
Comments:
eh. personally, i would have gone with warrior-yuna and berserker-rikku (for a goalie mask).
i'd be a little worried about the career, and mental stability, of any player who could find time during the season for a 40+ hour story line. maybe in the summers. but apparently some of them play some kinds of vid games- i seem to remember seeing somewhere pictures of ovechkin playing gta...
Post a Comment
<< Home