Wednesday, January 17, 2007
Bad Uni Alert!!!
If you happen to live in Milwaukee, and love to collect really awful sports uniforms, check out this promotion.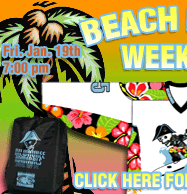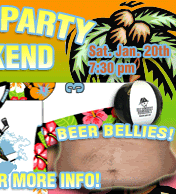 (edit: Link fixed)
Hawaiian Jerseys? OMG, no whey!
This is in conjunction with the following promotion:
Saturday, January 20 vs Toronto – Best Beer Belly and Beach Party Night
The Admirals are looking for the best beer belly around in this off-the-wall theme night. Interested fans will compete for valuable prizes. Also, the Bradley Center will warm up in the heart of winter with a Beach Party theme. The Admirals will again wear Hawaiian-style jerseys. The first 5,000 fans will get leied as they enter the game & 2,500 kids 14 & under will receive a cool Milwaukee Admirals Beach Ball as the leave the Bradley Center.
Beer belly night? Hawaiian Jerseys? Is this team drying to drive people away or do people in Milwaukee love this stuff?
*cringe*
Labels: AHL, Bad uniforms, Milwaukee Admirals
Comments:
Yes.... because when you think of Milwaukee, Wisconsin... you think of beaches and Hawaiian shirts.
Actually, it reminds me of the Mardi Gras promotion that had the Bakersfield Condors in these purple uniforms with yellow and green armbands.
Post a Comment
<< Home