Tuesday, September 12, 2006
An Offseason look at...The Chicago Blackhawks
One of my pet projects over the off-season has been to analyse the
teams, one-by-one, to check out the Canucks' and Blues' competition this
upcoming season. For now, I'll stick to the Western (is bestern)
Conference.
It seems most teams fit quite nicely into one of 3 groupings.
1. Top-tier contenders that are sure-fire playoff squads. So far,
Anaheim is definitely in this group.
2. Middleweights - There is a large mass of teams that will fight to
around the .500 mark and will fight for the lower 3 playoff spots.
Vancouver and Colorado fit into this group.
3. The "No Chance" group - Barring a large set of miracles, these teams
will sit at the bottom of the conference and don't have a real shot to
make the playoffs. Columbus and St. Louis fit here.
Today, I'll focus on the
Chicago Blackhawks
, a team that has fit nicely
in Group 3 for some time and looks to be stuck there for at least
another season.
I really do feel sorry for the 5000 or so Blackhawk fans that still
stick by their team. Really, this team is cursed!
You look at the long history of the Blackhawks, and they have won very
few Stanley Cups, and certainly none in my lifetime. They are also
cursed with one of the worst owners in professional sports, who rarely
televises home games and has alienated a new generation of would-be fans
with a tightfisted management style and hiring of incompetent staff.
When the Hawks finally do decide to open up the corporate chequebook? It
blows up in their face. All the millions forked over for free agents
would have been better spent on a large bonfire to heat some of the
homeless people in Chi-Town.
Nikolai Khabibulin
: Spending $6.75mil on one player is not the smartest
thing to do in the salary cap era unless that player is a bonafide star
that can carry your team. The Bulin Wall was never that player, but did
anyone expect him to collapse and provide one of the worst goaltending
performances in the NHL?
50GP 17-26-0 3.35GAA and 88.6 SV%
Adrian Aucoin
: After a few seasons of racking up massive amounts of
ice-time in Long Island, the Hawks figure they'd throw $4mil at him and
get themselves a good 2-way defenseman? What did they get? A guy who was
injured half the season and didn't play that well when he was healthy.
33GP 1G-5A-6PTS and -13
. For $4mil? Ouch!
Martin Lapointe
: The grinder with the great agent! Lapointe found a
SECOND GM to overpay for his talents, and signed a deal for over $2mil a
season. His tally? 31 points and a -30(!) in 82 games.
So, the Hawks have had a busy offseason as they've tried to right the
ship and finally make a leap from the cellar.
What did they do?
1. Trade for
Martin Havlat
and give him the keys to the car with a
$6mil/season deal, even though Havlat has yet to prove he's a real team
leader and not a complete brat.
2. Bring in
Patrick Lalime
to backup Khabibulin. Yes, the same lemon
that was demoted to the AHL because he was Awful (not the capital A)
3. Trade
Kyle Calder
, their solid scoring winger, for
Michal Handzus
, a
great defensive/playmaking center coming off of an awful shoulder
injury. The Hawks surely needed a centerman, but they are taking quite a
risk.
4. Bye-bye, Mark Bell
5. Drafted Jonathan Toews, who probably wishes he was drafted by any
other team.
How does it look?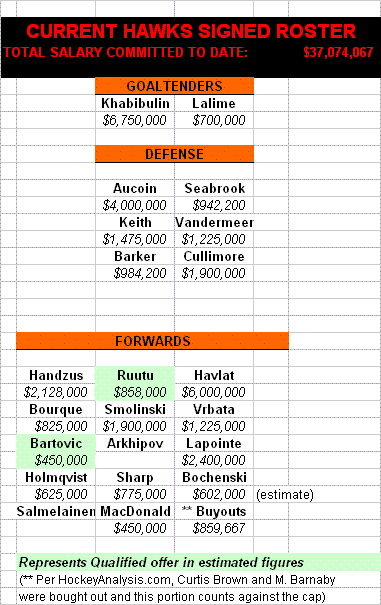 It looks, smells, and probably tastes like crap.
Goaltending
: The good news? It's more likely than not that both
Khabibulin and Patrick Lalime, another goalie who completely collapsed,
will inch up somewhat towards their career norms. It seems unlikely that
they could both be just as awful for two straight seasons, don't it?
The bad news? Until further notice, the Hawks are fighting with the
Flyers and Leafs to have the worst goaltending duo in the NHL. Both
Khabibulin and Lalime were at the bottom of the NHL goalie statistics
and they need to prove that they can carry a poor team.
Defence
:
Brent Seabrook
was a sensation with 32 points in 69 games in his rookie season. Keith and Barker are also good, young defensemen with loads of talent. Still, a group this young and with Cullimore (-24 last season) logging big minutes is going to make a lot of mistakes. Adrian Aucoin is a solid 2-way defenseman, but not the type of guy who should be anchoring your defence. There's a lot of upside here, but young defence make mistakes and it will hurt the Hawks.
Forwards
: Gone from this club are their top performers of last season in Mark Bell and Kyle Calder.
Tyler Arnason
was also given up on late last season, and Pavel Vorobiev is sulking in Russia, so this group is revamped somewhat.
Martin Havlat is one of the more talented guys in the NHL, so I can see the justification for the Hawks to trade for him and give him the big $6mil contract.
Michal Handzus is a great 2-way forward, but how will be play after his shoulder problems last season? He's a great 2nd-3rd line center type, but not the guy you want as your #1.
Denis Arkhipov? His salary seems to be a state secret :( He had some potential, but failed miserably in Nashville and didn't light up the Russian league last season, either (16 points in 50 games). I just don't see Denis making an impact. Vrbata is intriguing, as is Rene Bourque, but this group isn't very strong, overall.
Overall: The Hawks have 'potential'. Their goaltending is potentially better and there is a decent amount of young talent like Bourque, Vrbata, Keith, Barker, and Seabrook, so the Hawks do have a decent looking future on the horizon. This season? They'll be watching the playoffs on TV. Suspect goaltending, a young defence, and a lack of quality depth mean another playoff-less year for the poor fans in Chi-Town.
Comments:
Wow. I didn't realize the Hawks roster was THIS bad. Has Ruutu decided if he's retiring or not?
As for the Repo Men jersey. I'm stuck in a rut. I wanted to use a picture of your noggin' as the third Repo next to Estevez and Repo but I don't know how you look.
So If you've got a picture of yourself (no not like that!) you feel like sending please do.
Post a Comment
<< Home