Monday, September 04, 2006
An Offseason look at...the Anaheim Ducks
The hockey club formerly known as the
Mighty Ducks of Anaheim
is one scary looking team, and I'm not just talking about Randy Carlyle's pasty white thighs.
Just a few months after a late surge gave them a surprising playoff spot, the Ducks' GM
Brian Burke
was aggressive in the off-season fine-tuning his club and having
Chris Pronger
kind of fall into his lap.
If there is a team that has 'potential', the Ducks are certainly it. They have potential to have world-beating goaltending, the best Defense in the league, and an explosive offense. Even if one of those 3 areas doesn't quite perform to the max level, the Ducks are a club that is going to win many many games.
Let's have a look at the club as of today…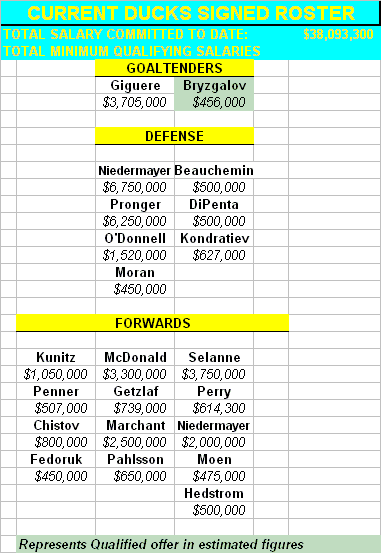 Goaltending
: Both
J-S Gigure
and
Ilya Bryzgalov
are highly skilled goaltenders that gave the Ducks 91.0SV% performances last year . There is a bit of a problem as the crazy-as-a-loon Bryzgalov obviously wants more money and the house to himself. Giguere has the bigger contract, is 3 years older, and is more proven. Burke's lone problem to solve is the goaltending situation. Getting Bryzgalov under contract is Step 1. Deciding what to do afterward is Step 2. Either way, the Ducks will be left with at least 1 good goaltender and, if one shall get traded, I don't doubt Burke will find a good backup.
Defense:
When you have two of the very best defensemen in the world, you are already off to a great start. This is just like the St. Louis Blues when they won their President's Trophy with Big Mac, Chris Pronger, and a bunch of extras off the cast of Survivor. Well, the Ducks have
Francois Beauchemin
, who's definitely well above average. This trio will eat up most of the ice time, leaving O'Donnell and DiPenta, who can perform at least average-ish most nights, to pick up the bits and pieces off of the floor. There really is no weakness here either than the #6 guy?
Who is #6? It's a fight between Moran, St. Jacques, and young Kondratiev.
Offense:
The biggest 'potential' factor is up front, where
Teemu Selanne
will have to continue to drink bottled water from the Fountain of Youth and
Andy McDonald
, Sean Avery's best friend, will have to show that he isn't just Teemu's sidekick. Chris Kunitz, who went on the
Jarrod Skalde
waiver-wire tour last season, needs to prove his 2nd half burst wasn't a fluke, either.
Dustin Penner, Corey Perry, Ryan Getzlaf,
and the returning
Stanislav Chistov
all have offensive potential oozing out of their pores like sweat. The Ducks will need these 4 to produce to give them the second-helping of offensive pop that they didn't have last year. Imagine if these young kids get going? With the Ducks' defense and goaltending, it's pretty much 'Good Night'.
The Ducks also have some great defensive forwards and role players to compliment the offensive superstars. Evil Swede
Samuel Pahlsson
is one of the better defensive forwards in the league,
Rod Niedermayer
owns the boards like a surly landlord, and
Todd Marchant
still has pretty good wheels and stone hands.
Todd "The Fridge" Fedoruk
rounded out his game last year and turned himself into a serviceable player when he's not getting into fights. Travis Green (substitute him on the chart there at $500,000) was signed and gives the Ducks another forward who knows his role and shuts his hole.
Overall
: The Ducks are a guaranteed playoff team that has a good shot of winning their division, or at least finishing Top 4 in the Western Conference. The Ducks are still a bit of a work-in-progress with their young group of secondary forwards, but the potential to kick everybody's asses is there. They are also financially solid with some room to spare to get the goaltending worked out and perhaps add a veteran later in the season if need be. I'm jealous.
Why did the Canucks fire Brian Burke again? :(
That stupid corporate lawyer shill… grrrr
Comments:
Overall, pretty good. A few corrections:
Kondratiev signed in Togliatta Lada in Russia and won't be seeing North American ice this year. (I hear Shane O'Brien might be the next d-man call up)
Hedstrom retired to Sweden also.
I have heard Bryzgalov might sign at somewhere between $1 - $1.5 M, which is honestly about $1 M lower than I expected. Then again, he is a candidate to return to Russia also, leaving Michael Leighton to back up J.S.
Oh, and Samuel Pahlsson is God.
Sleek,
Thanks for the info. Fortunately, Kondratiev isn't a big piece in the puzzle. Moran or St. Jacques 'should' be enough for the 10 mins of ice time alloted to that position.
as for Bryz...can you ever really predict anything with him? ;)...Leighton would be a huge drop-off, so hopefully (for your sakes, not ours), you can keep him around.
Post a Comment
<< Home