Wednesday, September 27, 2006
An Off-Season Look at...The Minnesota Wild
It's not uncommon for some teams to have an off-season makeover, but the
Minnesota Wild
went...er...wild...and spring for a whole new set of breasts, a tummy tuck, Botox, a face tightening, a fake suntan, butt lift, and permanent makeup.
Gone are the
No-Name+Gaborik
Minnesota Wild we all grew to loathe and hate, thanks to the Wild FINALLY opening up the damn vaults
(They have packed them in for so long and have been playing on the cheap)
to get themselves a more star-studded roster.
Pavol Demitra, Kim Johnsson
, keeping Gaborik happy with a nice extension,
Mark Parrish
, and so forth. These aren't your older brother's Minnesota Wild.
So, how do they look after the makeover? Can they return to the playoffs? Will they stop boring the hell out of the rest of the league?
It'll be very interesting to see if
Jacques Lemaire
decided to open it up a little. Now that Gaborik has more leverage, and now that Lemaire has more offensively-minded players on his club, the same old bore-and-snore hockey just won't fit very well with this roster like it did with his
Marc Chouinard's
and
Richard Park's
.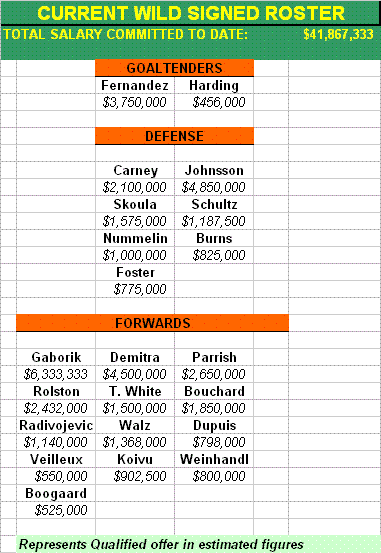 The most surprising thing is the payroll figure. The Wild were always on the cheap for their early existence, and now they are over $40mil for the long haul. From the Outhouse to the Penthouse, as 'they' say.
Goaltending
: It's now the Manny Fernandez Show, rather than the
Fernandez/Roloson Hour of Power
. Of course, Manny had the house to himself for a good chunk of last season and did just well behind a stifling defence, finishing 5th overall with a 91.90 SV%. Can Fernandez play well behind a team that'll leave him more exposed this year? I'd like to think he'll be at LEAST above-average, if not quite good.
Josh Harding
is his backup and has posted great numbers in the AHL. His fine development allowed the Wild to jettison Roloson to the Oilpatch. The Wild are well set in this position.
Defence
: Gone are the stalwartish
Willie Mitchell
and
Filip Kuba
. Incoming is Kim Johnsson and his 15 kids, and old man Keith Carney.
Johnsson is coming off of a hellish season of injuries, but he should be well recovered and give the Wild a good 2-way presence. Carney? He really showed his age during his short tenure with the Canucks last season and methinks the Wild overpaid for his services. Given the development of Schultz, Burns, and Foster, the defensive corps should be at least even with the group from last season.
Petteri Nummelin
is back to give the NHL another shot, and could provide the Wild with good numbers on the Power Play.
Martin Skoula
? He hasn't developed his game since his rookie season, but still provides a decent level of play. He's only 26, and may reach his upside under the guidance of Lemaire.
Forwards
: This is where the big changes took place, and where the Wild will live or die in terms of making it back to the playoffs.
I see a BIG weakness down the middle, where
Todd White
(Todd White?!?!) is their de-facto 2nd line center until little bro
Mikko Koivu
can make the leap and show some offensive production. Demitra was back on the wing last year in LA, and that's where he really should be. Demitra does fine for a center, but he's not great on face-offs and it's more of a necessity that he plays in the middle. The loss of centers like Marc Chouinard and
Randy Robitaille
, both of whom are excellent on face-offs, will definitely impact the Wild somewhat up front.
Overall
: The Wild underperformed their Pythagorean record last season, as they had a 231-215 goal differential and still finished in 11th place, 6 games below .500 (38-36-5-3) in the Western Conference. You would figure the Wild are a good bet to bounce back and they will definitely be a contender for those 7th and 8th playoff spots. If
Marian Gaborik
can really make the leap and put up some numbers that aren't just 'meh', and the Wild continue to keep the Goals Against down, they'll be in the thick of things.
If anything, I'll be following this team just for the Pavol/Gabo factor.