Saturday, September 09, 2006
LET THE GAMES BEGIN!!!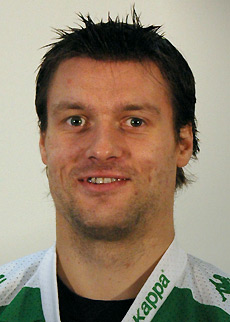 ...if you live in Europe, that is :(
Good looking fellows like
Tomas Demel
over there are playing games that matter while we have to settle with rookie camps and wondering why Tarantula Head hasn't been signed to a contract yet and NFL news that nobody needs, unless you need a sleeping aid or something.
Well, let's whet thy appetites with a little
hawt video action
from overseas, and I'm not talkin
Anita Blond
over here.
Here are some
Golden Helmet
videos with an NHL connection.
Roman Turek
with a slick poke check to deny Trinec' Zdenek Skorepa on the break. Stupid Turek... :(
Vlad Machulda gets the puck to
Milan Kraft
Dinner for a quick snapper on the Power Play. Wouldn't Kraft look good on Crosby's wing?
Petr "The Other" Sykora
with his patented one-timer on the Power Play. It's a shame he never really translated his game on this side of the pond. He's got wheels and a great shot, but just never adapted to 'our' style.