Tuesday, August 22, 2006
Canucks Salary Structure as at August 22nd, 2006
Thanks to my super-secret inside source, I gots me a transcript of the conversation at the Robo Luongo signing.
---
Nonis:
Just sign here and we're all set.
Luongo:
*signs contract* Alright! I'm looking forward to this!
Nonis:
And don't you worry. We'll be doing everything in our power to make you feel comfortable.

Luongo:
Well... I heard it rains a lot in Vancouver during the fall and winter.
Nonis:
Yup.
Luongo:
And, I heard the women are really snotty and high-maintenance.
Nonis:
True...
Luongo:
And, the media is vicious and there will be a lot of pressure for me to perform miracles.
Nonis:
Well, yeah...
Luongo:
So, how are you going to make me feel comfortable?
Nonis:
Simple! We're going to load up on crappy AHL-calibre players so that you'll get the 50 shots a night that you're accustomed to!
Luongo:
*facepalm*
---
How else can you explain GM Dave Nonis going out and signing flotsam such as
Yannick Tremblay
and
Rory Fitzpatrick
!? Unless the
Manitoba Moose
are loading up for a
Calder Cup
run, signing negative-impact players is never a good thing.
As of today, here are the Canucks commitments estimated for the upcoming season.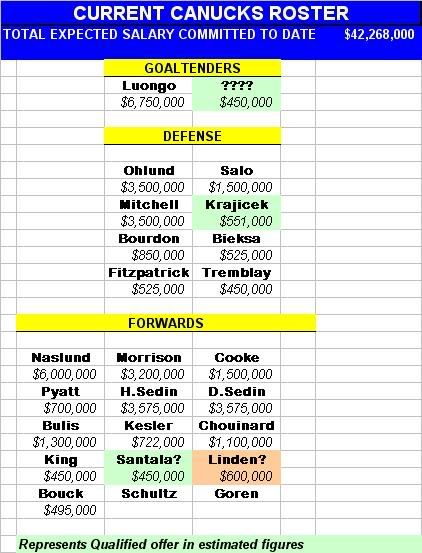 So, at least $42mil is locked up in what we got now.
I've heard rumours of
Trevor Linden
signing on the dotted line for about $600k, but nothing confirmed as of yet.
Lukas Krajicek
remains the lone big RFA to be re-signed, and he'll not be getting much of a raise.
And the backup goaltender? The Canucks need someone who is willing to sit on their ass a lot and get paid the league minimum.
Steve Shields
?
Wade Flaherty
? We just have to hope Luongo stays healthy, or the Canucks are DOOMED.
DOOOOOOOOOOOOOOOOOOOMED!!
Comments:
I think that's the story for about half the league these days.
Finite resources and more competitive European leagues make for interesting roster decisions.
Post a Comment
<< Home