Tuesday, June 13, 2006
Hurikan-Rana
I've been holed up in my house, studying for my
CMA Entrance Exams
next week. It's almost as much torture as watching
Mick McGoo
pretend to be a good referee.
I haven't been following the finals all that closely apart from watching the games, so I have a massive case of writers block and I'm way out of the loop.
So, I'll let my friend
Duc
do the talking for me. I'm not the only one who isn't cheering for the Oilers.
(actually, I just yanked this from his journal, heh heh heh)
---
While Micah and I were enjoying our coffees on Commercial Drive, I noticed something quite unusual:
a vehicle adorned with Carolina Hurricanes flags
and a tin foil replica of the Stanley Cup.
Now these displays of team loyalty are not surprising, especially during the Stanley Cup playoffs. However, I was surprised that people in Vancouver actually care about the playoffs after their beloved *ahem* Canucks were unceremoniously cut out of the playoffs. Furthermore, I was doubly surprised that there are fans in Vancouver who were wholeheartedly shameless in their love for the... Hurricanes... in Vancouver??
I figure most of our fairweather fans are on the Oilers' bandwagon, but obviously these folks are the exception to the rule.
I looked at the vehicle with morbid curiosity. The person on the passenger's side looked back. I bet he was wondering what was on my mind and what I was jabbering to Micah. My immediate thoughts were -- unlike the Canucks fans jumping onto the Oilers' bandwagon -- that these guys were breaking the recent tradition of the desperate pan-Canadian love-in for Canadian teams that manage to reach the playoffs (as with Calgary last season). Micah remarked on the condition of the flags, making me think that maybe, JUST MAYBE, they jumped onto the bandwagon before their trip to the Stanley Cup finals... say, perhaps during the Hurricanes' series against the Sabres.
At first, I thought negatively of an Edmonton/Carolina series, comparing it to choosing which of my hairy testicles need to be ripped out. I'm still not a fan of either team, I am really enjoying the series thus far. The first two games of the series have been high-scoring and action-packed, and the two teams deserve a lot of credit for going through what is arguably the most punishing and stressful post-season of all the major professional sports. Unfortunately, it looks like the denouement has been decided after Rolie the Goalie
(note to fans: stop stealing nicknames from Olaf Kolzig. It's lame.)
left the Raleigh Entertainment and Sports Arena.
---
Oh, here's a very odd picture of
Alexander Ovechkin
. See, he's just a
Sidney Crosby
wannabe.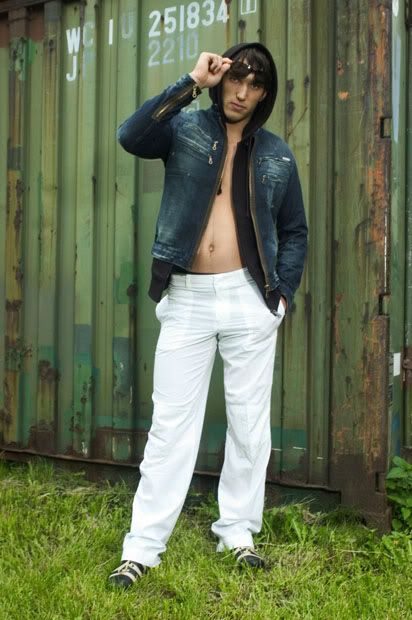 Comments:
Is it gay to admit that I have that exact jacket?
That jacket is more Metro than gay, IMO. Better beef up your supply of Nivea for Men.
Post a Comment
<< Home