Thursday, May 25, 2006
This post is "Clutch"
Looking at the scoring leaderboard, we've certainly seen a real changing of the guard.
Eric Staal
is at the top, and
Daniel Briere
is #2!!! Whether you believe in the NEW NHL or not, you'd never see Daniel Briere as the #2 playoff scorer in the pre-lockout NHL.
Patrick Elias
at #4 is the only familiar name in the Top 5.
"Clutch"
is an often overused term, since it can't really be quantified so easily and since most players don't tend to perform all that much better in 'stress' situations than in regular situations. A player who score .75 points a game in the regular season might be considered 'clutch' if they score some big playoff goals, but they will usually not have any significant increase in PPG during the playoffs. Many baseball studies have shown that 'clutch' hitters such as
David Ortiz
don't significantly perform better in 'clutch' situations than regular situations. Rather, they tend to perform just normally during big games, rather than wilt totally (like
Alex "Pay-Rod" Rodriguez
).
It is true that some players an inherently 'unclutch', such as
Joe Thornton
and
Nils Ekman
, and perform obviously worse in the playoffs compared to the regular season. It is true that goals are harder to come by in the playoffs, so a dip in PPG is expected from all players. How much? I'd like to know, but that data isn't easy to find.
Wayne Gretzky
dipped from 1.92PPG to 1.88PPG,
Mario Lemieux
dipped from 1.88PPG to 1.61PPG, and
Steve Yzerman
dipped from 1.16PPG to 0.94PPG. (Which can make you appreciate how good Gretzky really was when the chips were down)
It is also true that are a few select players who actually do better in the postseason than in the playoffs, and do it continuously.
One such player, love him or hate him, was
Claude Lemieux
. His PPG rose from 0.66PPG in the regular season to .68PPG over a very long career.
Another player, whom I have little love for, was
Mark Messier
, who went from 1.07PPG to 1.25PPG! Of course, he never made the playoffs in his last 7 seasons, so he didn't have a chance to decline his playoff PPG average in his old years.
Who is a clutch playoff performer these days? One name I hear a lot is
Chris Drury
, who was a key member of those powerful Avalanche squads and is now 3rd in league playoff scoring as he's helping the lead the Sabres into a possible Finals berth. He always seems to score highlight reel goals in the playoffs, doesn't he?
In 551 regular season games, Drury has 395 points and a +12 for a .072PPG, compared to a .70PPG in 94 playoff games. It's a dip, but a very small one at that. You could theorize that he's actually performing better than the standard in the playoffs. He's also +22 in those 95 playoff games. Overall, Drury isn't quite a Claude Lemieux, but he's consistently productive in playoff games and often seems to score big goals.
Who else is considered 'clutch' by the media and fans? Just a little analysis here...
Patrik Elias
- .85PPG compared to .85PPG
Jamie Langenbrunner
- .57PPG up to .63PPG - Quite a jump!
Patrick Marleau
- .65PPG up to .74PPG
Joe Sakic
-
1.20PPG down to 1.10PPG
. He has a real dip in playoff scoring, but he's consistently productive when the chips are down and scores those 'clutch' OT goals. His Goals-per-game actually increases from .46 to .51, which is definitely clutch.
Peter Forsberg
- 1.28PPG down to 1.17PPG. The fact that he can miss an entire regular season and then score 27 points in 20 playoff games pretty much sealed his 'clutch' label for all time.
Craig Janney
- .99PPG compared to .92PPG in 120 playoff games.
CRAIG JANNEY? Believe it or not, his PPG is pretty good. OF course, when you consider that 73 of his 110 playoff points came during his first four seasons in the NHL (With Boston), you can pretty much see that Janney was anything but clutch after he left Boston. Still, he's done more damage in the playoffs than other less maligned players.
In honour of the
Acid Queen
, who is rampaging across North Carolina and breathing fire onto thuggish Buffalo Sabres fans..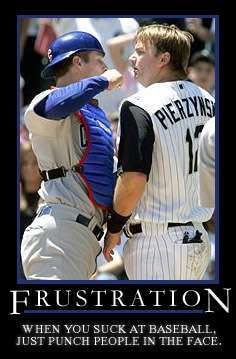 Comments:
I don't see Elias as being a clutch player. I know other devils fans would kill me for saying it, but having watched Elias his whole career I can hardly say he's new jersey's go to guy in the playoffs. This year he played very well in the first round, and then dissapeared (with 90% of the team) in the 2nd round.
Langenbrunner, Lemieux, MacKay and even Friesen have been more important to Devil cup wins than Elias.
Drury however, is Mr. Clutch, because every goal he scores seems to be a late 3rd period GWG or GTG. But im also a big fan of his, so i'm biased.
Jes, I think your analysis is flawed. You're simply comparing regular season stats to playoff stats. Try instead comparing number of goals to number of game-tying or game-winning goals. I think that's a better indication of what "clutch" performing is.
Post a Comment
<< Home