Wednesday, May 10, 2006
Duck, Duck, Duck, Duck, GOOSE!
The local free rag 24 Hours printed this 'aww how cute' story about ex-Canucks goalie
Richard Brodeur
and his art work.
It's an OK story, but I can't get past the rather atrocious error about Richard's playing days. See if you can find it.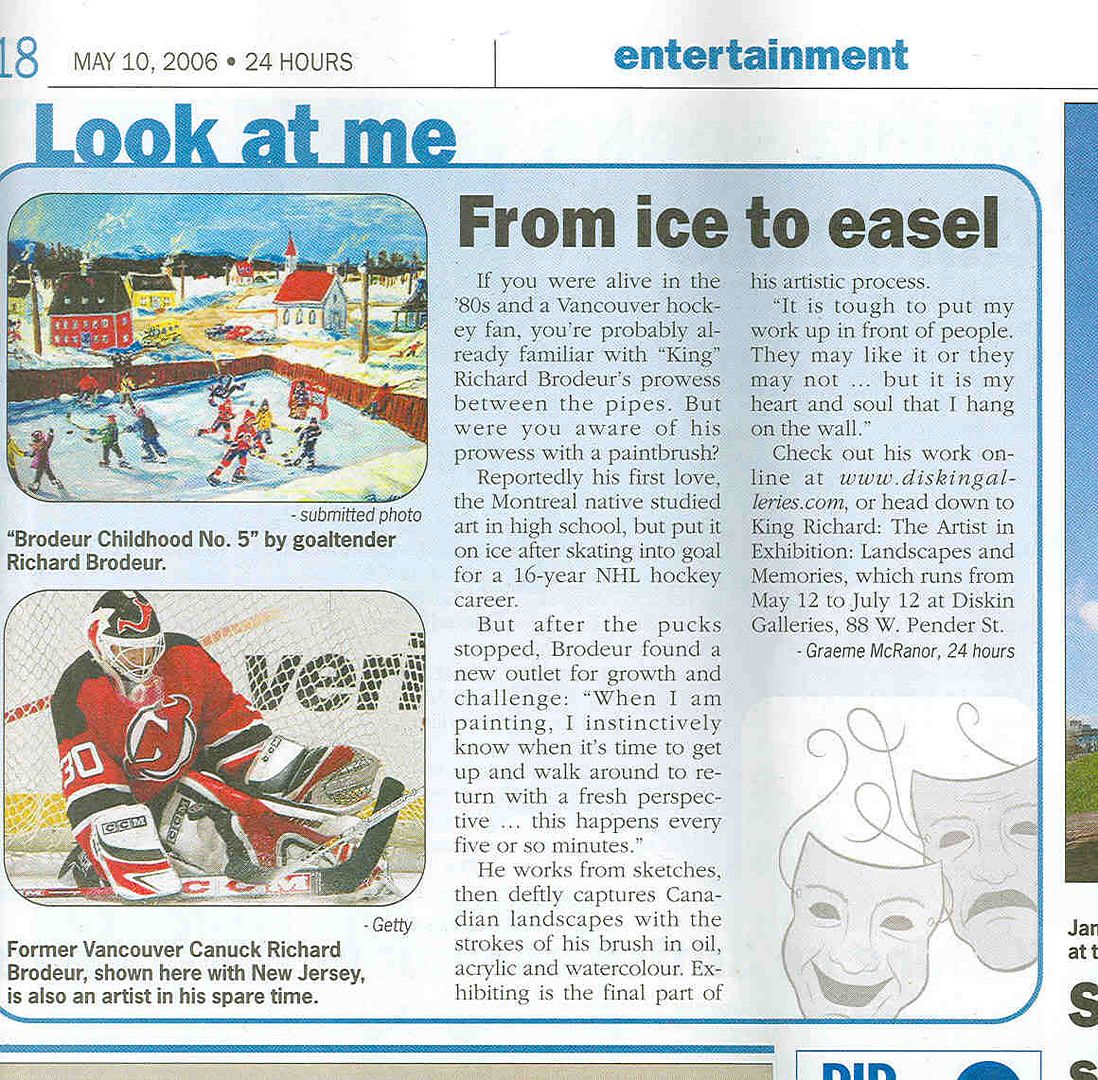 *QUACK*

The damn Ducks keep on rolling, thanks to
Joffrey "My parent's kant spel" Lupul's
4-goal effort. This Ducks team feels like the 'Team of Destiny', without the lame-ass Disney soundtrack in the background.
With 7 goals and 0 assists in 10 games, Lupul is the front runner for the postseason
Cy Young
award. Lupul does have the second most shots in the playoffs with 35, so
Jose Theodore
should know that Lupul is thinking 'shoot first', and play him accordingly. Speaking of shooters, I notice that Anaheim has 3 of the top 6 shooters. Lupul, Selanne, and
Andy McDonald
(?). McDonald has just 1 goal in the playoffs in 33 shots. He's certainly trying, but apparently snakebit or just plain crappy.
Sticking with the Ducks,
Marc Crawford
made a grade point that the Ducks get some serious traffic down the middle of the ice on the rush. Even little Andy McDonald is driving hard to the net and paying the price. Crawford was gushing at how wonderfully the Ducks were generating scoring chances off of the rush with the basic 'keep your stick on the ice' type style they teach you as a kid. I wonder if Crawford was thinking to himself,
"Why the hell didn't Todd Bertuzzi play like that? Maybe I'd still have a job."
Comments:
HA, HA, HA!!!! He never played for New Jersey. That "Verizon" sign behind him is clearly not from the 80s. The doorknob who wrote the article found a pic of Marty Brodeur instead. Dumb but, man, it almost had me!
Post a Comment
<< Home