Monday, April 24, 2006
NHL Playoffs: Doing the Splits!
Every series managed to get evened at 1-1, ensuring no sweep of Edmonton and plenty of more exciting games to come.
Calgary/Anaheim
-
This game must have been
Gary Bettman's
wet dream with 19
power plays and 38 PIMs in total (all minors).
Every little tug was being called and there was absolutely no flow to the game. Credit both teams for playing their hearts out and making it an exciting game for one that was predominantly a special teams battle. If this was a regular season game, the passion would probably have been missing and most fans would have turned to American Idol or something.
How about Anaheim's unorthodox strategy? Take plenty of bad penalties and score lots of goals. Hey, it works...
Miikka Kiprusoff
was unusually beatable and the Calgary defence made some glaring errors (shorthanded goals against are killah!), letting Anaheim take advantage of Calgary's mistakes and allowing them to a win a game where they were outplayed and outchanced.
Golbez's Goat of the Game
-
Roman Hamrlik
, who finished -4 and was a human pylon all game.
Ottawa/Tampa Bay
-
Two games and two come-from-behind victories. What amazed me the most was the fact that Tampa Bay's suspect defence managed to hold a powerful Ottawa offence to 2(!) shots on goal in the 3rd period. That's an unacceptable number of chances for the Sens (who scored on one of them), but let's give credit where it's due.
Golbez's Goat of the Game
-
Daniel Alfredsson
. I know you may not want to ruin your good
*cough*
looks, but it's OK to show up during the playoffs. 0 shots, 0 points, and 0 of much anything from Daniel.
Other random musings:
Marc Crawford is a really good colour commentator, and it's great to have him back in the booth. On the other hand, his voice is kind of annoying and it's hard to imagine him getting mad. As with Wayne Gretzky, it must be somewhat amusing listening to this guy yelling at you.


Is it so wrong to wish for bad things to happen to Greg Millen? Can us bloggers unite and chip in to hire Brian Campbell to lay Millen out with one of his open-ice specials?


I'm glad I don't get OLN broadcasts. From what I gather, you had the OLN, another logo declaring an EXTRA broadcast, and then the CBC logo for the feed they were getting. People want to watch hockey, not graphics.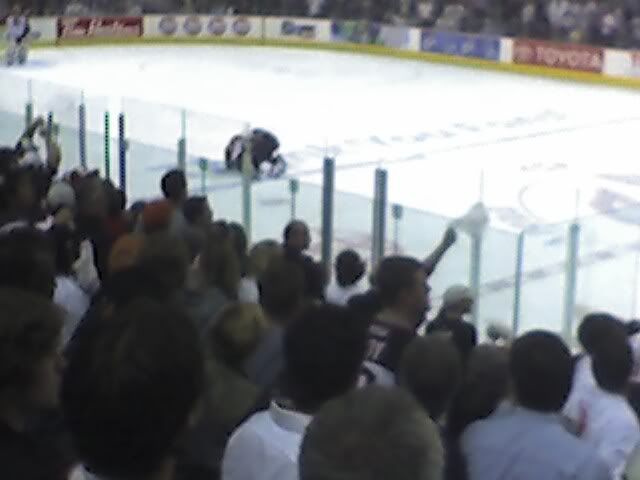 A reader from Buffalo sent in this picture from Game 1 of that series. It's quite fuzzy, but it probably represents how RJ Umberger saw the world after getting his world rocked.

Comments:
OLN has their logo faint towards the top right (not like it normally is on their broadcasts).
The "extra broadcast" logo wasn't usually on the screen. Just something they put up once in a while.
I'd rather see the graphic from time to time than have to listen to Millen the whole time.
Just sayin'. ;-)
Post a Comment
<< Home