Sunday, April 30, 2006
New York = Old News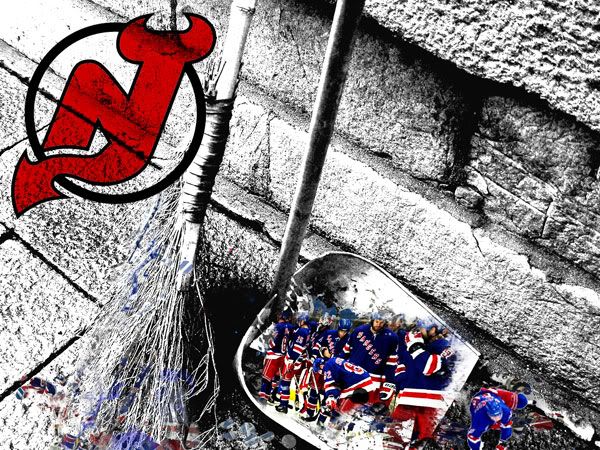 Yoinked from stgcreative.com
The playoffs are a cruel mistress. All of the blood, sweet, tears, and bag skates are quickly all for naught for some teams, like the
New York Rangers
, who get swept in the first round.
I don't often feel sorry for New York sports teams, but it's hard not to feel a little something for a team that works hard to get into the playoffs for the first time in 9 seasons (as the Rangers did), and then get swept aside like old garbage.
If anyone is thinking about the MVP debate, this series is a prime example of how important Jagr and Lundqvist were to the Rangers performance this season.
Jaromir Jagr
- He tried, but if your shoulder is that sore after 1 shift and 1 hit, you pretty much shouldn't have even bothered. The next time you think of Jagr as a selfish player, just remember the determination he showed in this series as he tried to come back and play some role. It looks like Jagr has done some growing up these past 9 months.
Henrik Lundqvist
- Of all of the rookie playoff goalies, I expected Lundqvist to be one the best. He took evil
Sweden
to the gold and he's not exactly a spring chicken in the world of hockey. He pretty much blew kisses the entire series.
The supporting cast? You could see how little the Rangers really had. They do have some good young talent and a few good veteran pieces, but the Rangers need some serious upgrades, especially at defense.
The
Sandis Ozolinsh Experiment
will end up being one of the worst trades of the season for any team. Bozolinsh was benched for game 4 after giving
John Madden
and the Devils enough goals in the first three games, and he wasn't providing all that much offense. The playoffs don't tend to be kind to risky defensemen.
Patrik Elias
? 5 goals and 6 assists in 4 games has him in the early lead for the Conn Smythe and scoring races.
Today's video is Edmonton's
Chris Pronger
rocking
Dan Cleary
with a hit. Pronger has been teh bomb for the Oilers in this series, which makes me wonder why he was never that good for the Blues.
Comments:
umm... hello, the injury that Jagr was so unselfishly trying to come back from was INFLICTED UPON HIMSELF IN A SELFISH ACT. come on, pay a little bit of attention here.
Post a Comment
<< Home