Friday, April 14, 2006
It's all over...
Now here's the crying...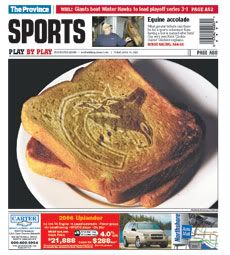 With another loss to the
San Jose Sharks
, the Canucks are officially out of the playoff race.
Full credit to the Sharks for the win, but it was obvious to me that the Canucks didn't seem like a very desperate team.
The Sharks? This was their 4th game in 5 nights, yet they outworked the Canucks and played like it was THEY who had their playoff hopes on the line.
As for those lovely acquisitions from the Trade Deadline, they sure turned into pumpkins as soon as they crossed the border.
Eric Weinrich
: 15 0-0-0 -12
Keith Carney
: 17 0-2-2 -5
Sean Brown
: 12 0-0-0 -3
Mike Noronen
: 3GP 0-1-1 3.95GAA 89.4 SV%
As for
Steve McCarthy
, he suddenly finds a coach that doesn't lack total confidence in him, and now he has 5 goals and 3 assists in 13 games with the Thrashers. Jiri Slegr had a much similar boost once he left Vancouver and found a coach who wasn't a total ass.
*sigh*
On the bright side, it should be somewhat easier to get Canucks tickets next year.
Comments:
pah, wasn't even worse than that? did eric the visor actually have some HEALTHY scratches too?
goodbye yellow tint visor! lol
I gather that's supposed to be toast, however at the reduced image size, it looks a bit to me like a s**t sandwich. Whatever, I guess..
On the bright side of things, the Sedin twins have turned out to be more dynamic than expected. That's something I guess. Should be interesting to see how they do once some of the bad blood (read: Bertuzzi) is gone from the team in the coming years.
Post a Comment
<< Home