Tuesday, April 04, 2006
Canucks: Going, going...??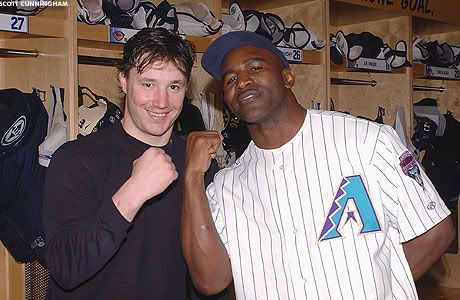 It's too bad Evander didn't connect...
There's a dark cloud over Vancouver today, figuratively and literally.
Everything that could go wrong for the Canucks went wrong for the Canucks yesterday, apart from the entire team dying in a plane crash and
Celine Dion
singing the national anthems before the game.
Oh, and nice to see
Pavol Demitra
back so soon, but DAMN, why did he have to come back and kill the Canucks? :(
Los Angeles
1 - Vancouver 0
Edmonton
7 - Phoenix 1
Colorado
4 - Chicago 3
San Jose
3 - Dallas 2
This wasn't just a gut punch that leaves you winded. This was a 1-2-3 combo that leaves you staggered and wobbly, but still standing enough to mount a comeback.
Now, I know the Canucks are still in 8th place and aren't mathematically eliminated from the playoffs, but part of me just gave up after last night.
Edmonton
= 1 game in hand and 1 point ahead
San Jose
= 3 games in hand and 2 points behind and playing very very well.
Jes ph33rs sharks
.
Los Angeles
= 1 game in hand and 2 points behind. With Pavol back, you can't count them out completely.
This is an exciting stretch run, but the Canucks clearly have a disadvantage as they are playing poorly and have only 5 games remaining.
The St. Louis Blues fan in me is telling the Canucks fan in me to shut the hell up.
As if it couldn't get any worse for the Blues, they lost
Patrick Lalime
and
Dallas Drake
to season-ending injuries.
Patrick Lalime is not a big loss until you realize the Blues' tandem is now
Reinhard Divis
and
Beckford-Tseu
. Yes, you can do worse than putting the shell of Lalime out there as your #1 goalie.
As for Dallas Drake, I know he hasn't scored a goal in 3 months, but he really was the heart and soul of the team. His 'intangibles' and defence made him fairly valuable to the Blues, who have little else going for them. If I were a playoff-bound team, I certainly would have inquired about acquiring Drake as a checking winger for my squad. I've been quite impressed with what Drake has brought to the Blues as their new captain. He's still a good puck mover, so he's not a total offensive zero.
Comments:
I was glad to see your boy Demitra back, as well. He's easily one of my favorite players.
The problem is that where I once wanted LA to make the playoffs ahead of Vancouver and the Sharks, now I'm not so sure.
Damn, I want Vancouver in the playoffs sooooo bad! I want to witness the bandwagon!
They are my 2nd favourite team, and with my #1 centre of the universe tree things all but eliminated, I really want them to be there.
Come neck puncher, bring da noise! BRING IT!
Post a Comment
<< Home