Friday, March 24, 2006
Who wants a Beer Bath?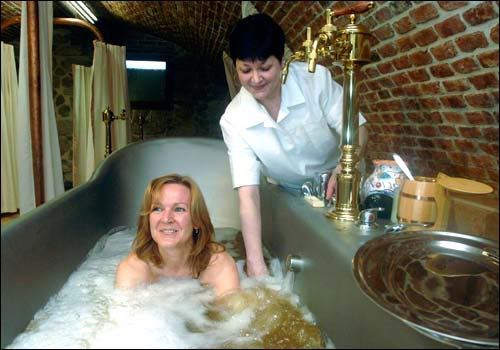 Oh, those crazy Czechs!
It's not enough that they drink hella more beer than anyone else,
but now they want to bathe in it!
Prague - A spa - believed to be the world's first beer health centre - has opened in the cellar of a family brewery in the Czech Republic.

On offer are beer baths, beer massages and beer cosmetics at the spa at the Chodovar Family brewery in Chodova Plana.

The converted cellars include seven huge baths inspired by Victorian design where guests can swim in beer while sipping a pint at a bathside bar.

For a £80 weekend package, guests can indulge in a range of health treatments such as beer wraps, starting at £12 per session.

The spa's owner, Jiri Plevka, said: "Beer can treat a range of conditions, particularly skin conditions, and the health centre should appeal to men who are put off by 'posh' traditional spas."
Beer Health Centre?
*Shudder*
Just imagine how nasty the average Czech guy would smell after dousing themselves in beer for an hour. Wouldn't you be tempted to start drinking the bathbeer?? This is just conflicting on so many levels.
Comments:
That reminds me of some article I read over a year ago about how red wine is good for your body, especially your breasts. And spas all over a country or two in Europe were offering wine baths and/or massages...
To quote Dave Barry, no, I am not making any of that up. o_O Just like the beer thing, has it occurred to any of these people that they could get the supposed nutrients from drinking the wine?!
Post a Comment
<< Home