Thursday, March 23, 2006
Photo of the Day: Jiri Dopita Comes Out!
Uhh.... >.<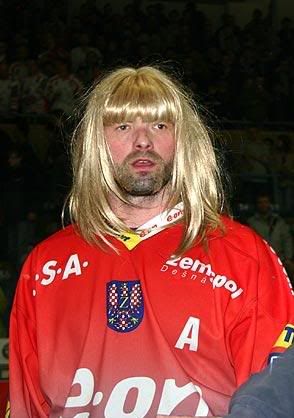 In a bid to inspire his Znojmo teammates in their playoff series against Vitkovice,
Jiri Dopita
dons a blonde wig and threatens to do a striptease if they lose the series.
Fortunately for his teammates, it worked and they took the series 4-2.
Comments:
look at this - club gm Jaroslav Vlasak agreed to have his hair cut in case of advancing to semifinals. Our clip shows him undergoing the operation by Znojmo captain Peter Pucher. - http://hcorli.cz/tv/2006_cf_6/video12.html
Znojmo eagles will face evil Sparta in semifinals.
Post a Comment
<< Home