Wednesday, March 08, 2006
Oilers Rolling the dice on Roloson.
It's no secret that Oilers GM
Kevin Lowe
is one of the worst in the business. He was barely out of hockey long before he got a coaching gig (which he may have been good at given the chance) and then given the GM's reigns. He had no business training or front-office training of any sort, yet he was given the keys to the franchise.
Now, we know the Oilers have sucky goaltending and Kevin Lowe was looking to improve in that area.
Still, desperate times do not necessarily call for desperate measures. From
TSN:
The Edmonton Oilers have a new No. 1 netminder, acquiring Dwayne Roloson from the Minnesota Wild in exchange for a first round pick and a conditional draft pick.

The conditional pick is a third rounder if Roloson re-signs with Edmonton.
A 1st, and maybe a 3rd as well, for a 36 year-old goaltender that is not a game stealer? Wow, Lowe got jobbed.
Now, Rolo has done a fine job behind a well-coached team in Minnesota. He won the Crozier Award for best SV% two seasons ago. He's an upgrade on what the Oilers have now. He is just not worth a first round pick.
Roloson is 36 years old and isn't the quickest goalie on the block. If you are going to give up such an asset, you need to get someone who is more than just an old and expensive rental. Lowe should have been able to pluck another goalie from another team for a cheaper price. If the Wild weren't willing to come down, then go elsewhere. Roloson seems like the perfect candidate to get exposed behind a much more loosey-goosey team like Edmonton.
At first glance, it appears Lowe simply panicked and got his ass handed to him again. We saw how he overpaid for
Mike Peca
and handcuffed the Oilers with some big (Chris Pronger) salaries.
---
PICTURE OF THE DAYMike Fisher
getting his bodyfat tested. A little beefcake for ya.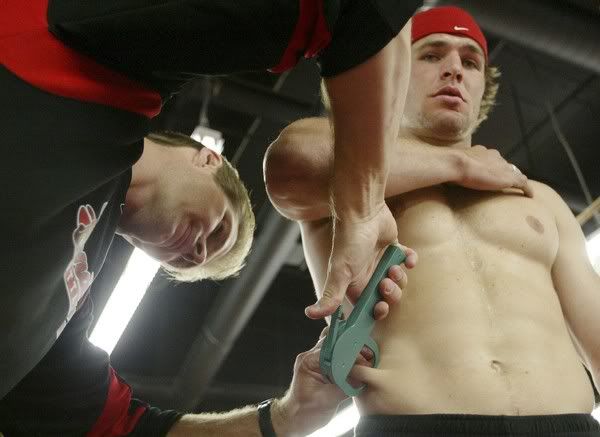 Comments:
a) neither the blues, nor columbus thought enough of him the year he won the award to start him a game. and the wild wont start him this year either
b) i certainly agree that he found a solid game in the minors, and has should some good numbers on a team that generally struggled, i would have personally ranked him below sanford for a trade deadline cheap goalie pick up.
c)a 1st rounder, yea a bit too much, almost as overboard as a 1st, 2 4ths and a few warm bodies for a upgrade at center :)
d) assuming lowe is dumb, but not stupid, this actually means some other teams are going to hose themselves, a 1st and a 3rd didnt get nibbles for the two real netminders thought to be on the block.... (cujo/belfour)
Post a Comment
<< Home