Thursday, March 02, 2006
Let's put our Emotions in Motion
When bloggers have been pointing out faulty headlines and obvious errors in reporting, it's usually been examples from those Yankee outlets.
Ben Wright
from The Net Files (R.I.P) and
CasonBlog
both pointed out a
faulty headline from TSN.ca.
TSN?
The Canadian site? Oh, dear!
To their defense, it was an
AP
(American!) article, but TSN should know better than to simply cut-and-paste. Tsk tsk!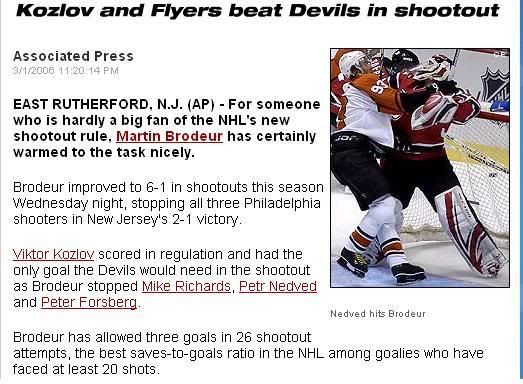 ---
A few tidbits this fine morning.
1. From the Columbus Blue Jackets,
"How I Spent My Olympic Break"
Jody Shelley: "Went to Mexico with Trevor Letowski. We hung out and played ping pong. I spent a lot of quality time with Trevor."
ORLY? 0_o
2. From
Larry Wigge
, a nice feature on our man,
Pavol Demitra.
If you don't think I'm the only Ruthene or Slovak with an inferiority complex, you don't know Slovaks.
"We get no respect," Demitra told me, pointing to the automatic berths countries like Canada, United States, Russia, Sweden, Finland, Czech Republic always seemed to get. "I could name off players like Hossa, Gaborik, Ziggy Palffy, Peter Bondra, Miroslav Satan, Jozef Stumpel, Michael Handzus, Ladislav Nagy, Zdeno Chara and so many more who are stars from Slovakia in the NHL. But our country gets no respect in the Olympics."
Pavol should be used to the lack-of-respect thing. Remember 1993?
Another thing you might not have known about Demitra? He nearly walked out on his NHL career before it ever started. He arrived from Slovakia for the 1993 Entry Draft thinking he would be taken in the first or second round, because that is what he had been told to expect.

"I sat there for nine hours," Demitra remembered. "I was so mad. I was ready to say 'forget this' and go back to Slovakia. I was heading for the door and somebody came to me and said, 'I just heard your name.' "

Ottawa drafted him in the ninth round. It turned out to be a steal -- a steal for the Blues, who obtained Demitra from the Senators for journeyman defenseman Christer Olsson in 1996.
Poor Olsson, I actually liked that guy. It's too bad he's now just a bad punchline.
3. The duo at
Vancouver Canucks Op Ed
is trying to rally grassroots support to get a documentary about the Winnipeg Jets,
"Death By Popcorn: the Tragedy of the Winnipeg Jets.",
to air in local Vancouver theatres.
You can find all information at
this link.
A new friend of ours, Winnipeg filmmaker Walter Forsberg, has a dilemma. He and his partners produced a great hockey film about the demise of the Winnipeg Jets which has drawn grandiose reviews in Winnipeg, Whitehorse, Saskatoon and Toronto. Yet no Vancouver theatres have agreed to show the movie. They seem to think we won't "get it". What's up with that?
It sounds interesting enough, so I'm going to shoot off a quick email to the theatre link provided on the site. I encourage any fellow Vancouverites to do the same. Even if you don't want to see the film, at least help get the film shown in Vancouver.
Comments:
TSN's transaction list has been a bit shakey this year. They've had a few other errors as well.
As for the headline, I don't think they copy and paste that, I think someone just messed up.
http://sports.espn.go.com/nhl/recap?gameId=260301011
http://msn.foxsports.com/nhl/story/5372742
http://www.sportsline.com/nhl/gamecenter/recap/NHL_20060301_PHI@NJ
Post a Comment
<< Home