Wednesday, February 22, 2006
Hockey Players' Wives
If I were a hot female specimen, there is no way in
South Dakota
that I would ever marry a professional athlete, especially a hockey player. It just wouldn't be worth the 'bling'
The average hockey player is cocky, self-centered, rather dumb, cheating on his spouse and has at least 6 fake teeth. Pro athletes generally have the worst of the alpha-male traits and are good for nothing more than a night or two in some high-priced hotel.
The wives of pro athletes know exactly what they are getting into when they enter such a relationship. Judging by the IQ of some of these women that I have come into contact with, they are either too ignorant to realize what is going on and/or so supremely shallow as to not care what their husbands do, just as long as the money keeps flowing in and the status symbol of being married to a pro athlete doesn't wear off.
Patricia Robertson
of the
TheTyee.ca
seems to think these wives are deserving of some of our thoughts and feelings.
As Wayne Gretzky is rallying the boys in Turin, Janet Jones Gretzky is dealing with the authorities. Am I the only one who feels a pang of sympathy for Janet and the other hockey wives as they deal with their various trials on the sidelines?
Yeah, you probably are.
Patricia seems to equate being a player's wife with being burdened with their expectations.
Huh???
You are telling me that
Chris Pronger's
wife is in agony and distress because
Pat Quinn
called out her husband for taking dumb penalties? The only pressure Ms. Pronger is under is the pressure to find the latest Gucci's in time for the next Oilers charity event.
Todd Bertuzzi
and
Marty McSoreloser
might have been chopped to bits in the press, but their wives certaintly didn't go under the microscope.
At least Patricia got one thing right:
Which brings us to more unseemly topics. In my opinion, Wayne Gretzy's only real social crime is the endless shilling he does for Ford, McDonald's and Coca-Cola. Other endorsements you may have been bombarded with by The Bill Shatner of Sport Shilling include Tylenol, Campbell's Soup, Nike, Esso, CIBC, Hallmark Cards, Peak Antifreeze, Thrifty Car Rental and Mattel, who developed a "Great Gretzky" effigy of the hockey superstar. I can't wait till he's old enough to shill for Grecian Formula, Polident and Depends.
It seems one out of every four commercials on Canadian TV has Wayne Gretzky in them. If it's a hockey game, it's about one out of every two commercials. Is there anything Wayne won't slap his name on for a quick buck?
Anyway, it's time for me to eat lunch: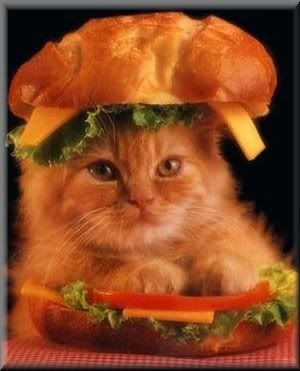 Comments:
I go to school with this girl from London Ontario and she was saying that she saw Corey Perry and went to talk to him. After a couple of minutes she concluded that he hit his head way too much and moved on; but sure enough there were girls all over him...since he's corey perry and all.
Post a Comment
<< Home