Monday, February 27, 2006
Final Olympic Mutterings
I know I was mad as a disturbed hornet at how badly Canada tanked in Torino, but let's get a little perspective here.
Canada rocks
!
I've heard and read way too much pissing and moaning about how crappy the Olympics turned out simply because our men's hockey team sucked a big chestnut.
OK, is that not a huge insult to the other athletes (Hello, Ms. Klassen and her 5 medals!) who performed bravely and did well?
24 medals
and a lot of near-misses (4th place finishes) gave Canada its best result ever. We were only one medal behind the grand old USA which has 10x the population of our fine country
(we believe in quality over quantity).
Oh, and we kicked Sweden's ass, Russia's ass, and Norway's ass.
How did
Japan
end up with only one medal?
How much do women's figure skaters suck now? If you fall twice, you win a silver medal?
And...what is up with the
"RUSSIAN FEDERATION"
crap? It's
RUSSIA
. This isn't the days of the CIS, bubs.
Anyway, back to my main point... those same blubbering
Molson Canadian
drinking morons (you know the ones that whine on those call-in radio shows) need an extra helping of pablum this morning. Without a men's hockey medal, these people think our Olympic effort was just in vain.
How utterly simple and thick-headed.
Let's celebrate our country's fine achievements and look forward to 2010. Since Vancouver and the province of BC is going to go way over budget to host this 2-week party for the rich, we might as well celebrate in style.
---
I watched the last two periods of the
Sweden/Finland
game from my hotel room, and you'd be amazed that I didn't pull a
Keith Tkachuk
and start tossing chairs everywhere. I had a sinking feeling that Sweden would win and they did. Congrats to them, and it's been a LONG time coming.
I had already given up on the men's tournament, and the final game was actually entertaining. Canada's players and coaches should take notes from
Team Finland
on how to get the most from your talent, and it's amazing how good Sweden can be when they don't get absolute atrocious goaltending.
As
CasonBlog
mentioned in my comments,
Team Sweden
deserves major kudos for sticking with their traditional uniforms and rejecting the Nike crap the other teams were wearing.
Nike
, stay the hell out of hockey! You might know basketball, but you don't know hockey, and your 'jerseys' suck ass.
BTW, how ugly has
Mats Sundin
turned? When he was drafted, he was actually a pretty fine looking Swedish lad. Now? He looks like the older cousin of
Gollum
.
---
My hockey pool suffered big time this tournament. Jagr's groin is back to being shredded like pizza cheese and now
Pavol Demitra
is out anywhere from a month to two months after taking Milan Jurcina's shot to the head.
Here's a picture of Pavol, who seems a bit too happy. What kind of medicine are they giving him? Medical Marijuana?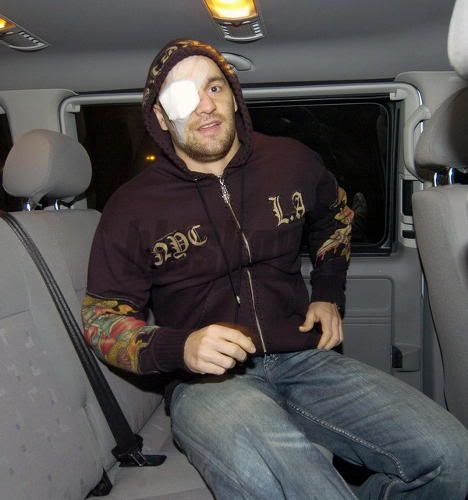 ---
Canucks fans are doubly-pissed at the Olympics. Jovocop was already out, now Ohlund and Salo are injured and not with minor little bruises.
Bryan Allen
is now the #1 defenseman, which means open season on
Alex Auld
.
Nolan Baumgartner - Bryan Allen
Steve McCarthy - Kevin Bieksa
Tomas Mojzis - Wade Brookbank
Add Bertuzzi's suspect play and Naslund's injury woes to the mix and you get a team that is going to have to fight hard just to keep a playoff spot.
Shut up
Calgary
, I can hear your laughing!
---
Intuitively, the new IIHF senior men's rankings make no sense.
Sweden #1
? Huh?? They won one gold medal and little else the past decade. Canada has won a hell of a lot, and you'd expect them to still be #1 despite a crappy Olympics performance.
Of course, the IIHF doesn't count the World Cup, which is just dumb. If you are doing a world rankings without taking into account of the major international tournaments, that what is the use?
Top 15:

1.
Sweden
4030
2. Canada 3940
3. Czech R. 3930
4. Slovakia 3805
5. Finland 3765
6. Russia 3725
7. USA 3575
8. Switzerland 3525
9. Latvia 3335
10. Germany 3270
11. Kazakhstan 3100
12. Austria 3045
13. Belarus 3035
14. Ukraine 3015
15. Denmark 2990
Oh, and the IIHF Awards
Directorate Awards, men's Olympic Tournament
Best Goalie: Antero Niittymaki (FIN)
Best Defenceman: Kenny Jonsson (SWE)
Best Forward: Teemu Selanne (FIN)
Olympic Tournament MVP
: Antero Niittymaki (FIN)
Media All-Star Team
Goal: Antero Niittymaki (FIN)
Defence: Nicklas Lidstrom (SWE), Kimmo Timonen (FIN)
Forward: Teemu Selanne (FIN), Saku Koivu (FIN), Alexander Ovechkin (RUS)
Comments:
"Of course, the IIHF doesn't count the World Cup, which is just dumb. If you are doing a world rankings without taking into account of the major international tournaments, that what is the use?"
You're wrong there, Jes. The World Cup does not have all IIHF affiliated nations competing and thus it would mean an uneven playing field where it comes to points to be gained, whereas in World Championships and Olympics all national teams have got a chance to earn points.
"How strange that Jonsson retires from NHL hockey and then kicks ass in the Olympics. Of course, all that money and he can't get rid of the acne problem he has."
Jonsson only retired from the NHL because of family reasons. He's back in Sweden now with his wife, kids and family which is quite important to him. I can't get into too much details on the family issue since I don't want to make these things public, but in my opinion they are very valid.
The move was certainly not done for the money as he earns about a couple of week's salary back home inthe Swedish 2nd division.
Finally. All-Star roster is indeed made up by the media, including myself, whereas the MVP's are selected by the "men in Armani's" That explains the difference in names that there's often.
_j-
Post a Comment
<< Home