Saturday, February 25, 2006
Brejktajm
It's a good thing that I'm in Seattle for a weekend getaway. I need to getaway from that damn frustrating Olympic hockey.
Sweden? Finland? It's an easy choice, but it still sucks. The Nordic ones are guaranteed at least a silver.
I'd like to give out a big
BIG F U
to
Milan Hnilicka
.
D00D wins a much undeserved
Best Goaltender Award
in the Czech Extraliga last year, robbing about 10 more deserving goalies of the honour simply because dumbass journalists fell in love with his NHL credentials (lest they forget how much d00d sux0red)
Hnilicka plays a great game against Slovakia filling in for Vokoun, and then goes back to his normally crappy self just in time to face Sweden. Is he a double agent? No, he just sucks >:( Do pice Hnilicka.
Oh, here's an exclusive photo of Peter Forsberg's pre-game preperation. If this doesn't scream EVILDOER, than what does?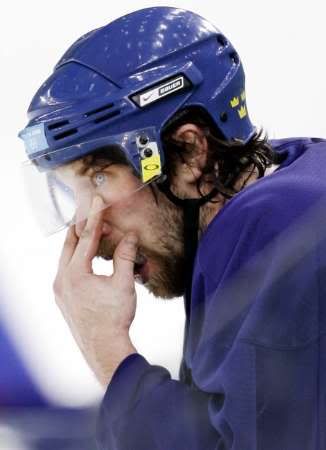 Comments:
Rumour has it Demitra is all busted up. Someone in Spector's mailbag said a Slovak newspaper reported he has a busted cheek , busted nose and a swollen eye that could keep him out for a month, if not the rest of the season. There goes my dream of Waddell swinging a blockbuster deal to get him to play with Marian Hossa.
Post a Comment
<< Home