Tuesday, January 17, 2006
The European Misadventures of Theoren Fleury
Theoren Fleury
, the little pest that most people really loathe or really like. He's been out of the NHL for a little while now, and he's likely never going to come back, despite the fact that he's still got some game left in him.
It's hard not to admire his on-ice tenacity and spirit. The 5'6" 180' ball of energy racked up 1088 points in 1084 NHL regular season games and 79 points in 77 playoff games. He was drafted in the 8th round, and hardly anyone ever gave him a chance when he was a kid.
Even while being the smallest player in the league for most his career, Fleury battled hard and refused to play the role of the 'little' player. Fleury went into the trenches, knocked guys on their asses, and made life more miserable for opposing teams than a post-game bag skate. Fleury was strong in body and in mind and proved all of the naysayers wrong. I know I certainly enjoyed watching him play because he seemed to be working harder and enjoying the game more than anyone else on the ice.
Even with all of his success on the ice, Fleury has been defeated time and again by the demons off of the ice. His battle with the bottle is well known, his ability to control his temper derailed him later in his career and aliented him from his teammates, and he may have been one of
Graham James'
unlucky victims (To this date, it's never been confirmed).
Normally, I could feel sorry for a guy like Fleury, but he's never shown the ability or the desire to fix his problems and lead a more stable life. With all of the success, all of the money, and all of the resources at his disposal, there is no reason why he should have to life live as miserably as he does. There are many others out there who faces great problems in life, and would kill for the resources that Fleury has at his disposal. Fleury has been given many chances to right himself (like
Wayne Gretzky
including him on the
Salt Lake City Olympic
squad), yet he continues to live an unhappy life.
Fleury's latest attempt to resurrect and continue his career lead him to the United Kingdom, where he's been playing for the
Belfast Giants
. He seems to be racking up a lot of penalties (131 PIM in 22 games) and getting into a lot of trouble.
As many of you have probably read via
TSN (January 10th)
,
Fleury, playing for the Belfast Giants, was in the penalty box in the second period when fans began yelling at him. Fleury then reportedly tried to get at some of the spectators, earning a game misconduct from referee Mike Hicks.
Thanks to
a link
posted by an anonymous commenter, I got to see some pictures and get a bit more of the story behind this incident.
Just to pass on-and these were comments heard by me from down in front of Blocks 1 and 2 (i.e the opposite side to the benches)-minus swearing-should the mods wish to delete them then fair enough, but given the amount of requests from both sides to hear what was said, I thought I´d put a few.

All were shouted when Theo was nearby and play had been stopped, the first before he`d even touched the puck or the heckling had begun on the other side.

"Get back into rehab, you useless smack-head"
"The only line you like to be on is up your nose"
"Does anyone fancy a pint? He does..." (shouted at full volume as Theo settled in for a face-off)
"Stop sniffing, Theo...and don´t get upset, either"
"What are you on THIS time, Theo?"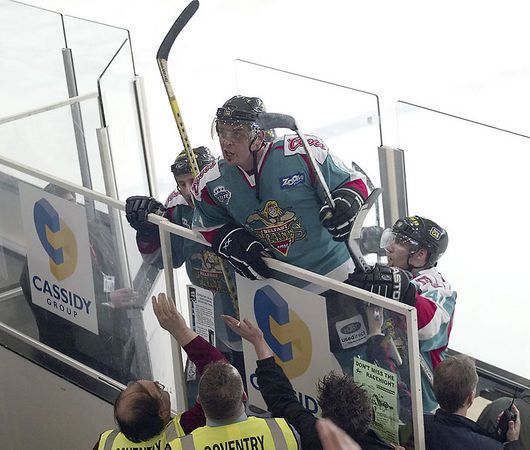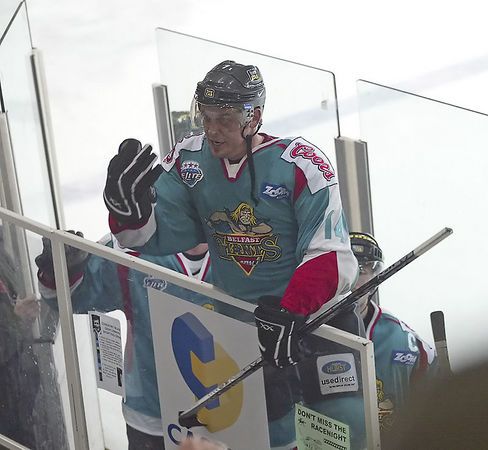 Now, I know it's not easy to have this kind of crap thrown at you night after night, but Theo is a professional hockey player and should know better to ignore it and not respond. Playing professional sports requires you to shut out crap like this and never, EVER, get into it with the crowd.
Why did Theoren go to a country where they speak English and have smaller crowds? It's much easier to hear these kinds of comments playing in the UK than in the NHL, where the noise gets drowned out easily.
Better yet, why doesn't Theoren go to a country like the
Czech Republic
or
Japan
? He can play professional hockey and not get heckled nearly as badly. I'm sure Theoren doesn't know the Czech terms for 'boozehound', so he could just play and ignore any Czech insults.
And to the 'hecklers', grow the hell up! I can understand cracking a few jokes here and there, but it's obvious that you meant only to hurt Theoren with your comments. Theoren doesn't need your BS when he's trying to get away from his past problems.
Comments:
why should theo be treated by the fans with kid gloves? i am completely confused. as pointed out, theo is not only a consistant tonic to himself, he ALSO blind sides teammates in these events, destroys chemestry, steals money from fans who ulitimately pay him etc.
WHILE never coming clean to the fans for sure (and i don't think to his teammates ever either, but i'e not been behind the closed doors)
his demons are HIS. he OWNS them,or rather they own him. I've met afew theo apologists,but i've never met anyone who theo honestly attempted to get help with the load he is so often assumed to bear.
he wants it, he gets it. fans should line up to give it to him.
oh ps you DON'T get away from your past.you ARE your past.
oh feel free to email your hate to jes, he has my email and can forward lol
Howdy, t'was me who left the anon comment previously. I'll be a little less aloof this time.
I was at Fleury's first game in the UK. He came over a few weeks after the season had started due to a mixture of sorting personal things out in Canada before leaving and the issue of a work permit being granted to someone with his past.
UK hockey fans were pretty divided as to how he'd fare; some were in the "old, fat, won't put the effort in" camp, others taking the "He'll be the greatest player to ever skate in the UK".
The previous season's lockout had sent a number of NHLers of varying skill (Witt, McKenna, Boynton, Cairns, Nichol, Belak) over to the UK with mixed results, most played as though they were on holiday (which I guess they were) leading people to suggest Fleury would be similar.
Fleury's first game was announced to be against my team, the almighty Edinburgh Capitals. I took the ferry across the sea and saw Theo score on his first touch, his second shift then add four assists before completing his hat-trick and getting in two fights. We lost 11-2.
Since then he's blown hot and cold, some Belfast fans aren't happy with his work-rate but still tops the Elite league scoring chart. We played in Belfast again on Saturday and I barely noticed him.
As far as the heckling go this was discussed on UK forums as soon as it was rumored he was headed our way with most saying "don't be disrespectful, how would you feel" etc. and the rest treating him as fair game, like any other player.
When he came to Edinburgh to play a few weeks back a large chunk of the crowd chanted "You're just a fat Martin Cingel [Slovak top goalscorer for Edinburgh]" as if to say he wasn't really anything special. At the end of the game while skating past the Caps fans (in the UK both teams shake hands on the ice and do a lap clapped off by home and away fans) he turned to us rubbing his belly. All good banter.
In Coventry they knew that they could wind him up and put him off his game. The game was 2-0 and Fleury was -2 when he started to lose his rag, his rookie player-coach did little to calm him down and the whole team lost the plot, turning their backs at face offs and playing with the other end of the stick. Farce. Neither Coventry nor Belfast came out looking good.
Fleury's comments have been schizophrenic as well. To the press (this Sunday) saying he loves Belfast, has been sober since he arrived, never happier and loves playing hockey there. To the away fans at games "This league's a joke, I'm only here to help out a friend then I'm outta here" and the like.
Belfast are back in Coventry on the 29th and it will be interesting to see what (if anything) happens.
Post a Comment
<< Home