Thursday, December 15, 2005
Wayne's World: Retire Yzerman's #19 for Team Canada?
What the frick? Has
Wayne Gretzky
gone drunk with power?
It was bad enough that Wayner the Whiner was guaranteeing
Steve Yzerman
and his reconstructed legs a spot on
Team Canada
for the Olympics, but now he wants to ensure nobody can use #19, for now and forever.
From
TSN.ca
One week after announcing that he's withdrawing his name from Canadian Olympic team consideration, it appears that Steve Yzerman's No. 19 won't be going to the Turin Games either.

According to a story in the Detroit Free Press, Team Canada executive director Wayne Gretzky is considering not allowing any players on the team to wear Yzerman's number.

''Wayne says in all likelihood that jersey's going to be retired,'' said [Darren] Pang. ''Wayne's really something, that way. He just thinks so highly of Mario (Lemieux) and guys like Steve.'
Yep, the "Old Boys Club" mentality is at work again. I don't blame Steve for any of this, since he's probably just as surprised as the rest of us.
Stevie Y has had an awesome NHL career, but has he done anything at the International level to justify having #19 retired for Team Canada in his honour? Mario has played in very few tournaments, and spurned Team Canada many times in the past, yet we should retire #66?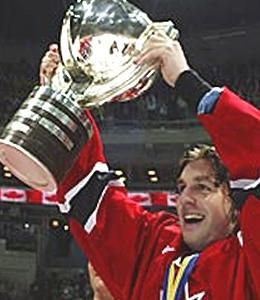 As a rule, national team numbers should never be retired unless there are some incredibly special circumstances. Why should a future hall-of-famer like
Joe Sakic
be denied #19? Why should
Brad Richards
,
Shane Doan
, or anyone else who uses #19 be denied their usual number?
The only Team Canada uniform number I would ever consider retiring would be
Ryan Smyth's #94
. Has anyone done more for Team Canada than Ryan Smyth, aka "Captain Canada"? I can't think of any.
Look at the number of
World Championships
Ryan Smyth has been in, plus the
World Cup
and the
Olympic Games
in
Salt Lake City
. Smyth has answered the call for Team Canada more than any other player I've grown up with, and he's done so in the typical "Canadian" way
(heart, soul, sportsmanship, and all that crap).
Comments:
You said it pal! Stevie has been a great player and representative for the game, but this is the Olympics. We have a
Hockey
Hall of Fame (Not "NHL" i.e including international play) and arena rafters for honouring our great players of the game.
The Olympics is different. All these guys are to-be hall of fame players (On Team Canada at least) ...it is an all-star of all-star teams. What burns me most about this is how Wayne is prempting the Detroit Red Wings from being able to honour him first - he only played his whole carreer there.
Generally I am not a big fan of retiring numbers period. This game and these numbers are going to last a lot longer than us - if we are not careful we are going to run out and have a Y2K like issue with player number assignments in the 2142-43 season.
(I don't know why, but I am sensing some general contempt for the Great One these days in the hockey universe)
Post a Comment
<< Home