Friday, December 23, 2005
A Little Christmas Cheer
Let's head into Christmas on a good note, shall we?
Just days after the Czech Junior squad had their hotel rooms robbed by some petty thieves,
Hockey Canada
played Santa Claus and delivered some Christmas cheer.
From the
Winnipeg Free Press
CHILLIWACK, B.C. -- They were robbed at Chilliwack's Best Western Rainbow Country Inn, but a pot of Hockey Canada gold has saved the day for the Czech Republic junior team.

Just four days after about $15,000 in cash was stolen from their hotel rooms, members of the Czech team were breathing a sigh of relief yesterday after Hockey Canada replaced the money.

"Hockey Canada called me and apologized for what happened and said: 'Tell the players (Hockey Canada) will give the money back and to concentrate on hockey and the tournament,"' a relieved Czech general manager Petr Misek said from the hotel.

"We know we are getting our money back. It's nice -- this could happen anywhere."
That was extremely generous of Hockey Canada. They didn't even trumpet the announcement on their website, preferring to just keep the whole incident on the down-low and the focus on hockey.
Now, I am just wondering why the Czechs are carrying around $15,000 in cash and leaving it in their hotel rooms? O_o
...and the
Photo of the Day
; Guaranteed to put a smile on your face!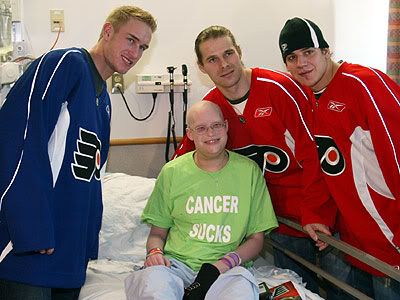 Happy Festivus
, and may
Santa Claus
mistakenly bring me your gifts.