Thursday, December 22, 2005
Bertuzzi and Jovanovski Celebrate Their Nomination
Aww, Todd and Special Ed are so happy together...
"I can't see me lovin nobody but you, for all my liiiife"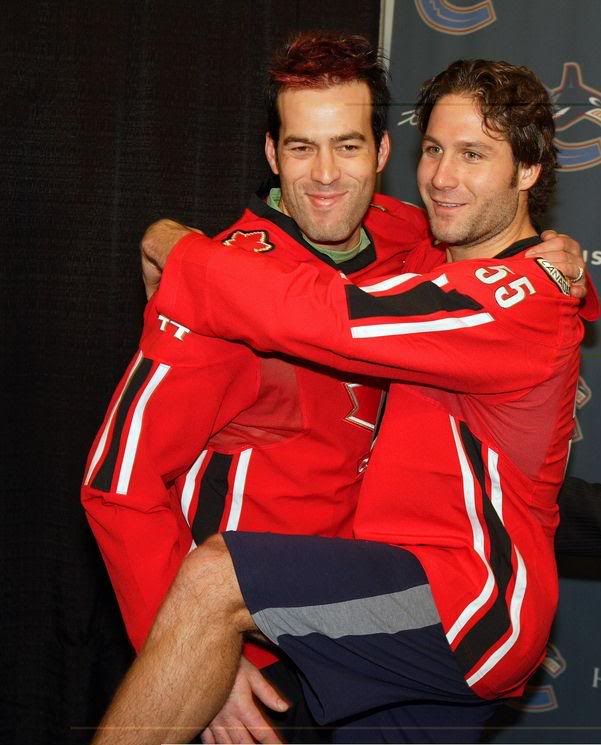 Todd still has one more Olympic hoop to jump through, however, as the
Canadian Olympic Committee
(ie. More Red Tape) has to approve his inclusion.
Report
The controversial decision to include Todd Bertuzzi on Canada's Olympic hockey squad could still be scrutinized by the Canadian Olympic Committee (COC).

Bertuzzi, long a favourite of the Wayne Gretzky-led braintrust that chooses Team Canada, could still be barred from the Turin Olympics in February if the COC decides to exercise its final authority on who represents Canada.

According to an online report, the COC will discuss Bertuzzi's selection in a conference call Thursday.

Hockey Canada's Bob Nicholson had confirmed to The Globe and Mail that the COC had contacted him with its concerns over Bertuzzi as well as Shane Doan and Dany Heatley, who were also named to the team on Wednesday.

According to the Wednesday Globe article, a COC official said the committee would be troubled by the inclusion of any of the three, but that traditionally it has gone along with selections made by sports federations.