Wednesday, November 23, 2005
Crosby vs. Ovechkin - Round One to Sid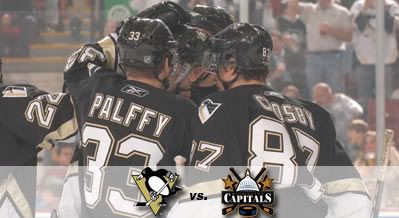 How important is one game? In the scheme of the universe, very little. Last night, however, provided one of the more anticipated matchups as uber-rookies
Sidney Crosby
and
Alexander Ovechkin
finally matched their meats (or is that met their match?) against each other for the first time in the NHL.
Let's face it, the Calder race comes down to just Ovechkin versus Crosby. There are other fine rookies such as
Dion Phaneuf
,
Jason LaBarbera
, and
Henrik Lundqvist
, but they are all in a race for 3rd place as the league's top 2 stars battle for the hearts and minds of the sportswriters and capture the attention of the fans.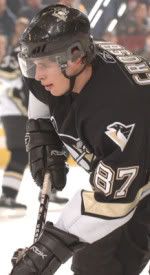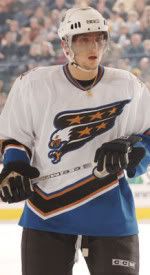 Last night, good triumped over evil as Crosby's Pens
defeated the Crapitals 5-4
Sid, it is.

Sidney Crosby, the Pittsburgh Penguins' 18-year-old phenom got the better of his first NHL meeting with Alexander Ovechkin – Washington's 20-year-old sensation. Crosby scored a goal and added an assist, while Ovechkin was limited to an assist in Pittsburgh's 5-4 triumph Tuesday night at Mellon Arena.
Party pooper
Phil Coffey of NHL.com
thinks the head-to-head matchup is all hype and a load of tosh, but what's wrong with creating an exciting storyline between a game of crappy teams? Crosby's sweet backhand goal and spin-o-rama pass to Palffy were highlight reel plays that you won't get from most players.
The numbers:
Ovechkin
- 25:17TOI, 1 assist, +1, 4 shots on goal,1 giveaway
Crosby
- 19:16TOI, 1 goal, 1 assist, +1, 4 shots on goal, 1 giveaway
So, Crosby is better and more efficient!
Overall,
Ovechkin
- 21GP 15-7-22 -2 16PIM
Crosby
- 22GP 11-16-27 -5 28PIM
See!! Ovechkin is the typical me-first Russian goalsuck while Crosby is the selfless Canadian who is helping his teammates before he helps himself.
(If you can't see the sarcasm in that sentence, please smack yourself)
If Ovechkin had quality linemates like El Sid, he'd probably be running away with the race, but likewise if Crosby was a year older like Alexander is.
Right now, it's an exciting 1-2 race and as someone who has both of these kids in his office pool, I'm pulling for both of them to keep piling on the points.
(crossposted)
Comments:
Jeebus - A rookie forward playing 25:17 as hard as Ovechkin plays?
Wow.
I'd say Crosby appears to have the edge on natural talent, but Ovechkin seems to play his guts out more. At least from my perspective anyways.
Crosby never seems to be giving a huge effort because the game is really 'easy' for him, as it were. Guys like Federov, Turgeon, Malakhov and even Gretzky just kinda floated out there because they didn't need to play the game with extra energy. Those players get chastized for it, but it's sometimes better to play smart than play hard.
Still, I find Ovechkin is the more exciting to player to watch. He's very smart on the ice but also very energetic. I worry about him tiring later in the season because he plays a lot and plays hard. It's a lot different playing his new style in North America over 80 games rather than the typical Russian style (defensive and laid back) over 50 games.
Post a Comment
<< Home