Wednesday, November 02, 2005
Analysis: Hobey Baker Award Winners
We often hear of the Curse of the
Heisman Trophy
, the trophy given to the most valuable American College football player. Players who tend to win the Heisman have been known for being spectacular busts at the NFL level. (Andre Ware, etc)
So, I decided to look at the
Hobey Baker Award
, college hockey's equivalent award. Do Hobey winners suffer a same 'curse'? Do Hobey Baker winners suffer the same fate of non-success?
In theory...
The best North American players do not go to college, but play in the CHL or the AHL rather than the NCAA.

Hobey winners tend to be senior (4th year) or junior (3rd year) players. The best college players/NHL prospects often leave college after 1 or 2 years.
Let's look at the career numbers. I have gone up to 2003 since it's too early to judge the past 2 winners.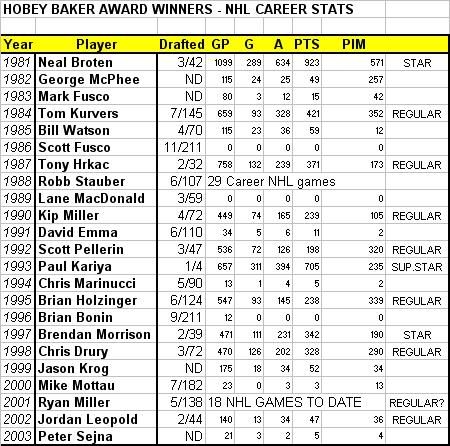 Wow, the results certainly give us a very mixed bag!

Out of the 23 Hobey Baker Winners...

We get 1 Superstar, 2 Stars, and 7 Regulars (maybe 8 if Miller sticks). That's less than a 50% change of getting a regular or better player from a Hobey Baker winner. Ouch!

2 winners never played a single NHL game. From what I gather, they basically retired after college or soon after.

Only 1 player (Kariya the superstar) was drafted in the 1st round and 3 were drafted in the 2nd round. 4 Hobey Baker winners went undrafted.

The amount of talent that made and stuck in the NHL seemed to get better in the 90s after a very shaky start (apart from Broten). From 1999 onwards, however, it doesn't look good unless Ryan Miller can finally stick in his role with the Sabres.

Kip Miller didn't really become an NHL regular until he was 28 or 29 years old, and then had the fortune of being the hard-worker bee on Jagr's line for a time.

None of the non-drafted Hobey winners ever made it as a regular in the NHL, and runner-up Chris Kunitz is finding it hard for himself in Anaheim (he's already been waived once). I guess there is a good reason these guys go undrafted, but that shouldn't stop teams from trying to sign undrafted Hobey winners.

Notable players who were Hobey Baker bridesmaids to brides they were prettier than: Adam Oates (1985), Brett Hull (1986, to a guy who never played an NHL game!), Joe Nieuwendyk and Brian Leetch (1987), Joe Juneau (1990 and 1991), Craig Conroy (1994), Mike Grier and Anson Carter (1995), Martin St. Louis (1996 and 1997), Mike York (1999), Mike Comrie and Brian Gionta (2000), and Zach Parise (2003).

Is there a curse of the Hobey? Not really, but winning the Hobey is certainly no future predictor of NHL success. If less than 50% of Hobey winners make the NHL, then perhaps we need to re-evaluate how much stock we put into the winners of this award.
Comments:
stats in a vacuum!!! compare hoby winners making it to, oh the 19th overall pick.
you rated them as 1/2/8 with 11 misses and sejna (who should be a no decision still).
the randomly chosen late 1st round pick results? 0/3/8 with 11 misses. AND 3 NEVER SAW THE NHL
the three stars? ollIE da goalie,kt da fat,and straka.
isn't really a curse THEN, rather, the hoby>20th pick in ability ability. that ain't bad :)
and IF you are right in the drafting, the hoby's average much lower than 19th overall pick and actually are BLESSED with unusual success :)
go hoby!!!!
Post a Comment
<< Home