Wednesday, October 05, 2005
NHL: Preseason Predictions Part Deux
It's been a long year and a half without NHL hockey and today is the country's biggest party. Such is my luck that I have to spend tonight in a class learning about the
Cost/Direct Method of Consolidating Financial Statements
. Of all the great injustices!! >:( ... I'll miss the whole damn party. I blame
Gary Bettman
.
I've put up the
Jaroslav Balastik
monitor once again, the
other site
has the
Sidney Crosby
monitor, and now we've got
Red and Black Hockey
doing an
Andrew Hutchison "Hot Dog with Cheese" Monitor
. If you see any good sales on
Kraft Singles
, let me know.
---
Predictions may be a fool's game to some, but I do like to put my knowledge and psychic ability to the test. While I may have made some predictions
earlier this offseason
, I decided to revise them a bit and include the non-playoff teams. I've also posted the predictions from
The Puck Stops Here, James Mirtle, McKeens, Sports Illustrated, The Hockey News
, and
Hockey Analysis
. I had to tweak the rankings around to match up with the 'Division Winner' seeding format.
We'll see who is right after the season is over.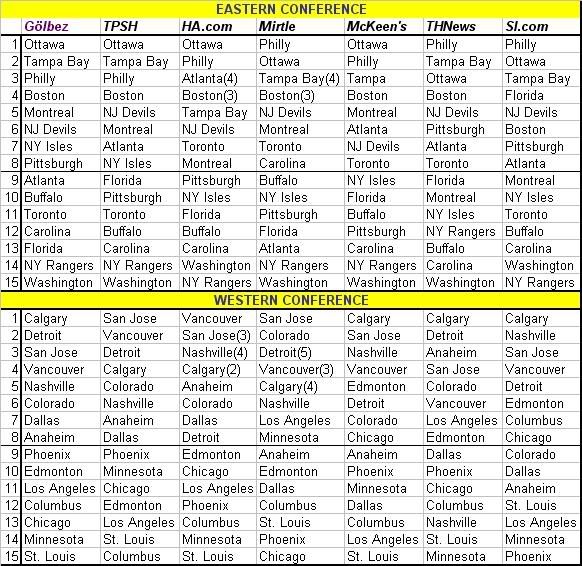 I'm a Blues fan, and I can't believe there are people out there who don't think the Blues will finish in last place in the Western Conference! Really, I think they'll challenge the NY Rangers for 29th place overall.

Is James Mirtle a closet Hurricanes fan? He actually predicted the Sightless Eye to make the playoffs. I thought my prediction for them was optimistic. Mirtle is also the only one to think the Wild will make the playoffs.

The Hockey News is clearly on crack. Montreal to finish 10th? Do the Maple Leafs own this publication? I mean it was bad enough that they dedicated an entire article in their annual guidebook to the Leafs, but then they suck up to them like an MBA grad to the CEO of a Fortune 500 corporation. Nashville in 13th? Puh-lease!

I moved the Senators to 1st place and moved Boston down to 4th. I was nervous about the Senators earlier, but it's obvious their roster is back together fairly intact and they are primed to rip apart the East. I still think Boston's offence is going to surprise some folks.

I put Atlanta 9th because they are still without Ilya Kovalchuk. If they sign Ilya, I'd swap them and Pittsburgh because Atlanta should be a playoff team if they get Ilya in the lineup.

I also swapped Phoenix out of the playoffs and inserted Anaheim. I have little faith in Coach Gretzky. Phoenix has a decent roster, but their roster construction is also, perhaps, leaving a bit to be desired.

SI.com also has some very bold predictions: Florida in 4th?? Have they seen the Panthers defense? It's a shock Roberto Luongo hasn't taken a shotgun to them yet.
---
To finish off, here are my psychic and biased award predictions:
MVP
:
Jerome Iginla
, Calgary Flames
Art Ross
:
Markus Naslund
, Vancouver Canucks
Norris
:
Scott Niedermayer
, Anaheim Mighty Ducks
Vezina:
Roberto Luongo
, Florida Panthers
Calder
:
Sidney Crosby
, Pittsburgh Penguins
Selke
:
Keith Primeau
, Philadelphia Flyers
(Not that he deserves it, but the writers fell in love with him even though Michal Handzus is a better defensive forward)

Rocket Richard
:
Marian Hossa
, Atlanta Thrashees
Lady Byng
:
Pavol Demitra
, Los Angeles Kings
Oh, and
GAME ON!
Comments:
As a Bruins fan, I'm pretty pleased with their offense but their defense concerns me too much for them to be a top three seed in my view. More realistically is a 5th-6th place finish.
Looking forward to the Leafs missing the playoffs though.
Post a Comment
<< Home