Monday, October 17, 2005
Hockey Blog Carnival #11: Angels Fall First
Welcome one, welcome all to the
Hockey Blog Carnival #11
here in the
Land of Broken Dreams
, known to the locals as
Vancouver
. It's a dark, rainy, and depressing place. The surrounding doom and gloom tends to put me and the other locals in a rather foul mood most of the time.
Why run the carnival here? Well, thanks to the provincial government's employment regulations, I can pay my midgets, oh sorry, "little people", less than the minimum wage. Why should I pay full salary for half a person?
"GET BACK IN YOUR DAMN CAGE! I NEVER SAID YOU COULD LEAVE!"
Let me introduce you to some of the locals. First, we have the folks over at
Vancouver Canucks Op Ed
, who have returned after a year-long hiatus. Be careful what you say, because anything incriminating may end up in their weekly
Quote Sheet.
Then we have
J.J. Guerrero
, the lone person in this city who actually misses the Vancouver Grizzlies. He runs the
Canucks Hockey Blog
,
wishes Sean Avery would shut the hell up
, and laughs at the Flames
for signing an over-the-hill Bryan Marchment
. Hey, 'Mush' may yet be useful for kneecapping certain 'enemies'.
That old man standing on the porch over there and shaking his fist at the kids is none other than
Tom Benjamin
of the
Canucks Corner
. He went insane after
Crystal Pepsi
was taken off of the market, and he's had a Jihad against
Gary Bettman
ever since. Despite the early returns looking good,
Tom believes Gary's new NHL
is akin to the wussified version of San Angeles from the movie
Demolition Man
.
As you might expect, Tom has spooked a lot of kids over the years and the kids are fighting back.
First, we have
Eric McErlain
, who
wonders if Tom must be watching some 'other' game.
As far as I'm concerned, I'm happy so far with what I've seen. Then again, I can't discount the possibility that I'm feeling this way because today's NHL is better than no NHL at all. So while I might be pleased to this point, I think we're going to need to wait a little longer before I'm ready to give a firm thumbs up or down.
Andy Grabia
of
Sports Matters
writes an open letter to Tom
on behalf of Edmontonians:
Today you decided to take a shot at Oilers owner Cal Nichols. Somehow, the idea that the Oilers will need a new stadium-IN TEN YEARS-is yet another example of how evil and awful NHL owners are. This prompted you to speak on behalf of the "good people of Edmonton" and attack the character of Mr. Nichols…

…I think it would be best, Tom, if you just stuck with what you know best, and that is speaking on behalf of yourself. As a good citizen of Edmonton, and an occasional reader of your site, I resent you of all people speaking on my behalf

Wait, there's more! Tom L has his Sabre-a-rattlin in the direction of TB.
At least Tom gets a bit of backup from The Ice Block's David Singer, who is quite the goon, himself.

This exclusive death match will be available on Pay-per-view for $24.95 USD.

---
Now, we travel east into a band of gypsies that we call "Carolina Hurricanes Fans". This ragtag bunch is just not the crowd to be messed with, folks!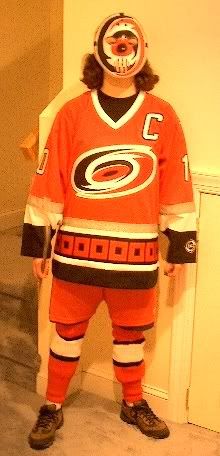 This scary-looking protector (pictured right) of the Canes nation is the 'Stormbringer'. I wouldn't mess with a woman that looks like that! She has a good heart, though, and writes a tribute to Ron Francis that would bring a tear to Chuck Norris' wooden face.

Then, we have the Acid Queen, a lady who once made shock-jock Jim Rome pee his pants. If you think Canes fans don't know hockey, you'll get a smacked by her +1 Bat of Reality so hard that your kids will be born with a headache. The AQ goes undercover and discovers just how illegitimate the sources of 'Eklund' really are. (Hint: They ain't 2 Legit to Quit)

CasonBlog is getting rather twitchy thanks to Keith Jones and OLN's rather slow start out of the gate.

What would a carnival be without a freakshow? David Lee of Red and Black Hockey brings you an exhibit of the ugliest NHL team sweaters from the past. Only the bravest of heart shall pass through these gates! David also brings you the tale of the re-union of the spooky Adams Family.

Really, how can the Carolina Hurricanes have more dedicated bloggers than the historic Chicago Blackhawks and Boston Bruins? Is hell freezing over? :)

Oh, please be careful folks! Do *NOT* anger the Bertuzzi Beast! The last fool who did that had his neck snapped in half. It was awful…and my insurance premiums have tripled since then! Not pretty…

Speaking of dangerous beasts, the Nashville Predators have been ripping apart the opposition and they haven't been getting the attention that they deserve. The Predators Den will help educate you with detailed features of the Preds goalies, defense, and "forwards.
LadyPredator brings us the touching storing of Preds assistant coach Brent Peterson and his fight with Parkinson's Disease.

Now, we travel over to a rat-infested hellhole of Ottawa, where evil Senators roam. Hockey Country's Craig McMurtry exposes even more of Sean Avery's jackassedness.. Why is Craig chained to the ground? Well, he committed the great sin of spreading the mispronunciation of a Slovak surname.

"and you'll stay there until you get it right!"

From Hockey Country, we go to Hockeytown where Paul Kukla wonders why the Red Wings official website is so out of date and out of touch with reality. Meanwhile, the fine folks at On the Wings uncovers the deep dark secrets of Mikael Samuelsson, and Behind the Jersey has an interview with the man, Eric McErlain of OffWing, whose blog inspired Hockey Rants.

---

One of my pet peeves is the lack of 'Sabermetrics' available in hockey and the fact that not enough attention gets paid to statistical applications in the old-school world of the NHL. How else could Jim Carey ever win the Vezina with a 90.6% Save Percentage? "Oooh, look at the pretty wins and shutouts!." Whatever.

Well, Daryl Shilling has a great archive of studies to peruse, but he's been busy with his new kid over the past year. Picking up the drop-pass, we have Hockey Analysis.com who have come out with their new Power Rankings based on their own formulas, and not how much media hype the teams can generate. Eric Cartman over at The Puck Stops Here has many great articles comparing past greats to their peers of today. He asks the relevant question: Is Roberto Luongo the best goalie in the NHL?

"You can't leave until you say YES"

---

Follow me now into the House of Horrors…here we have the World's Biggest Douchebag, Steve Simmons! In addition to his rather annoying 'performances' on TSN's Wednesday Night Broadcasts, this doofus actually believed Steve Thomas and Bryan Marchment deserved roster spots with the Maple Leafs. Hello, this isn't 1990!
I enjoy beating this moron with my toy lightsabre.
*thwack* *whap* *smack*

Speaking of doofuses (or is that doofii?), Mark Messier was a rather big one during his time here. The so-called 'Best Leader in Professional Sports' was anything but. Ok, do I have a point? Well, sort of. The folks over at Hockey Dirt have a look at this year's NHL captains.

Of course, our House of Horrors is haunted by a ghost, Lyle "Spector" Richardson. Lyle digs into the spooky topic of Escrow and takes the NHL players to task for being so anti-visor.

---

Want more? Here are some of the other sideshow attractions at our fine carnival.

---
I hope you enjoyed yourself at this edition of the
Hockey Blog Carnival
. Before you leave, I invite you to visit the music tent, where I have brought the
#1 act from Europe in 1979
.
Only the best for my customers ;)
Comments:
It must be da scary shoes, because the red, black, silver and white look marvelous! I more troubled by the musical portion of the show. Soviet Vaudeville sucks.
HEATHEN!!
I expect the Acid Queen to beat you any minute!!! >:(
Post a Comment
<< Home