Saturday, October 22, 2005
Flyers do Boot Camp
With the NHL schedule maker somehow finding a way to give the
Philadelphia Flyers
a 7-day break while the poor Western teams have to play busy schedules and travel lots, the Flyers decided to do a bit of team building.
So, why not boot camp?
It might sound harsh, but I'm sure the Flyers players were probably happy not to have to put up with another Ken Hitchcock 3-hour video training session.
From
Philly.com
The Flyers learned firsthand what happens during military training and were led through a series of grueling, obstacle-course exercises designed to force them to participate as a team and rely on one another.

"[The drills were] very demanding," said defenseman Chris Therien. "It gave us a 25- to 30-minute look at what they do here. We saw how they train. It gave a look at life in the military, at West Point. It was fun.

"I loved it. That today was the core of team-building. The meat-and-potatoes. You're all in the heat together, you're all sore together. You're all trying to fight through at the finish because you don't want to let anybody down. You don't want to be one of the guys not finishing."
While the Flyers have been firing offensively, their defense has been rather spotty and the Flyers aren't playing the tight hockey that Hitchcock is known for.
I like this bit of creative thinking by Hitchcock. Instead of listening to him or one of the assistants babble on as they always do, they get a new fresh experience and get a break from the usual routine.
It wasn't all just pushups and paces, though...
The story that still resonated in their hearts and minds Thursday at the Skate Zone was that of cadet Derrick Hines, a young man some of them had met during their tour of the U.S. Military Academy before the 2003-04 season.

Hines, an Army Ranger and an alternate captain on the Army hockey team, was killed during a gunfight with insurgents in Baylough, Afghanistan, on Sept. 1. He was 25. According to his hockey coach, Brian Riley, Hines kept firing at insurgents after taking a bullet that proved fatal.

Flyers right wing Mike Knuble was moved by the story, even though he had never met Hines.

"He wanted to go to Afghanistan and serve our country over there," Knuble said. "That's reality. We play a game and go on with our lives. These guys, by now, have buddies that have died. These kids are getting ready to give their lives for the cause. They're all so brave, so polite and so confident. We were a little in awe of them because they're getting ready to give their life if they have to.
Not that I am for the war in/on Iraq, but pro athletes often lead very sheltered lives and a little dose of harsh reality can be a good thing for them.
If anything, the Flyers certainly didn't look rusty as
they beat the Leafs 5-2
. In fact, the Flyers defensive effort was probably the best it has been all season.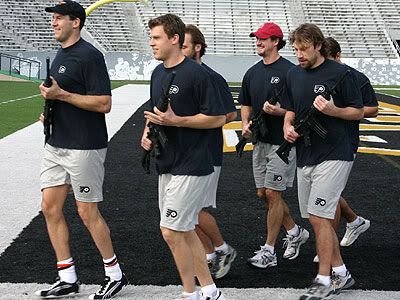 Comments:
Sounds to me like some people are taking the
Art of War
quotes used in the NHL ads a little too seriously...
Post a Comment
<< Home