Tuesday, September 13, 2005
Michelin Men
One anonymous commenter took me to task for my comments on
Martin Brodeur
and his Symphony of Destruction.
Me: "Martin Brodeur won't have his big padding to help him stop pucks"

Anonymous Poster: I like reading your blog and all.. but that was pretty dumb. He has consistently had some of smallest (if not the smallest) goalie gear in the league. His pads last year were BELOW the upper limit for this year. I would be more worried for your hero Luongo.
Well, I never claimed to be a Rocket Surgeon, but I do trust my own eyes. I do not know the exact measurements of his pads (nor do any of us), but I see a goalie with a puffed up chest and a big enough sweater to house a family of four.
Let's examine some photographic evidence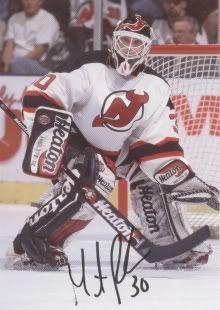 OK, I'll acknowledge that his glove/trapper looks pretty small (and it doesn't have a cheater), but his chest and sweater look way too big to me. How many pucks have been lost in that mass of clothing and upper-body padding? If I were to make a small wager, I'd bet that Brodeur has one of the three biggest sweater-to-body mass ratios in the NHL.
Let's contrast that to a goalie I've known for years,
Roman Cechmanek
, to have very thin padding and a more tight-fitting shirt.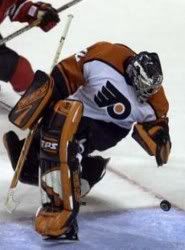 Cechmanek is a big (6'3") goalie and he's not a very slim man, but his pads and the way he wears his equipment has always made it look like he has more holes than the average NHL goalie. When you go to the net against a Brodeur, you can't see anything except the extreme corners and a small five-hole. With Cechmanek, you can often see a few holes here and there.
Of course, the master of big padding is generally known to be Mr.
J-S Giguere
.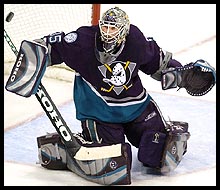 Now, Mr. Giguere does have goaltending guru
Francois Allaire
around to help him with his game. At the same time, Giguere hasn't been so great since his white-hot playoff run a few years back and the reduced equipment may hurt him the most.
As for Mr.
Luongo
...
He's always had exceptional reflexes and ability and I doubt he'll be hurt very much by equipment restrictions. I'd be more worried about the Panthers defence continuing to give up 40+ shots a night.
Comments:
Wow, a topic just for me.. i feel special
Yeah, I would be the anonymous guy who wrote the exchange above. I have to agree, his shirt is a little bulky. However, I would have to call it average, whereas the rest of his gear is smaller than average.
Like my last post, I tried to find some articles to back my position of brodeur having some of the smallest gear in the league, and like last time, I had a hard time finding it.
I did find this though... but it's literally from the horse's mouth, so it's certainly up for debate.
Brodeur blasts brethren over pad issue

Canadian Press

9/23/2003

MONTREAL (CP) - Martin Brodeur of the Stanley Cup champion New Jersey Devils has taken his fellow goaltenders to task for complaints about new restrictions on the size of their equipment.

Brodeur, in his new weekly column in Le Journal de Montreal on Tuesday, said complaints mainly made by goaltenders from Quebec that the new rules left them vulnerable to injuries were unfounded.

"The limit for the height of goaltender's pads is 38 inches (96 cm), so?" said Brodeur, a three-time Cup winner. "Mine have always been 34 inches (86 cm) and that's enough.

"I've always preferred less bulky equipment so I could move around easier. Certain goaltenders have really gone too far in the last few years and I can understand why the league wants to stop it."

New York Islanders goalie Garth Snow was thought to have had the tallest pads last season and the chief reason why the league took action.

"Garth Snow keeps adding pieces to his pads," said Brodeur. "And his shoulder pads are so big he looks like Goldorak, the robot I watched killing the bad guys on TV when I was a kid."

Some goalies complained that a ban on extra pieces of padding on the knees would lead to injuries, but Brodeur said he suspects they are more concerned with leaving openings for pucks to trickle between their pads.

"I have to point out that I don't use the butterfly style, unlike most Quebec goaltenders," Brodeur said. "With plastic foils attached to their pads, butterfly goalies could completely close the space between their legs.

"I can understand why forwards complained they can't score when they shoot for the five-hole. Jean-Sebastien Giguere was the target of such complaints last year."

Brodeur allowed that while he didn't buy the goaltenders' complaints, it was important that goalies be well protected, especially with modern-day players shooting the puck harder with lightweight composite sticks.

"A few years ago, Mats Sundin would never take a slapshot until he got to the top of the faceoff circle," Brodeur said of the Toronto Maple Leafs captain. "Now, with the new composite sticks, he can fire a bullet from the blue-line - and beat me from time to time."
Thanks for addressing the topic though.. I still don't understand all the hate for the devils (detroit,dallas,anaheim fan???) but at least you can back your arguments up.
Keep up the good work.
Tony, The anonymous Devils Fan
Post a Comment
<< Home