Wednesday, September 28, 2005
Fighting the losing battle of Pronunciation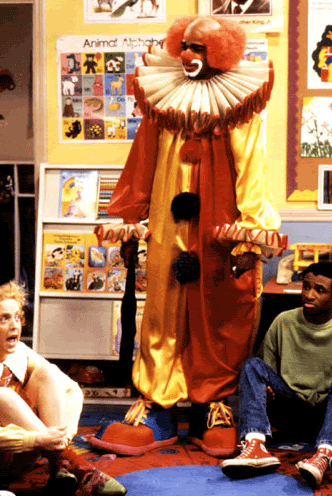 Anyone who has known me a decent length of time knows that it really irks me to hear Slavic names butchered, anglicized, and just generally mispronounced by fans, the media, and everyone else that I come across. The general laziness of the media is inexcusable, and I really hate seeing the Slavs marginalized in such a manner. I know that the most of the European and Slavic sports commentators make a good effort to pronounce 'Anglo' or other foreign names the 'correct' way.
...and then I run into people who attempt to 'correct' others on the pronunciation of Slavic names. The problem? They are spreading even more false information. It's bad enough that the official
NHL Pronunciation Guide
(Produced by nasal voiced
Doc Emrick
) is full of more errors than your last math test, but now I see posters on weblogs and message boards 'correcting' people with the wrong information.
When I see this happen, then you bring out
EVIL JES
(pictured)
and the
+3 EBONY HOMEY SOCK OF DEATH
!
Take this exchange between
Craig McMurtry
of the excellent
Hockey Country
blog and myself. Normally, I'd have no problem with Craig...but then this exchange happened in one of his posts, and
HOMEY DON'T PLAY THAT
!
---
Craig:
A heads up to sports highlights hosts: Brian Pothier is pronounced Poth-e-er, not Poth-e-ay, and
Andrej Meszaros is pronounced Mez-are-os
.
Me:
NO NO NO NO NO NO NO NONONONONONONON
NOOOOOOOOOOOOOOOOOOOOOOOOOO!!!!!!
(pet peeve time). If you are going to correct someone's pronunciation, make sure you have it right!
Meszároš = MEH-saar-oesh
(the E is like pen, Jen)
Now, if you hear anyone pronouncing his name like Me-say-ros or something crap, I want you to smack them with an old homey sock.
Craig:
Jes, according to him, it's not the way you say. Maybe he's Americanizing his name, I dunno.
Me:
Why would he want people mispronouncing his name?
If you say Me-say-ros in Slovakia, you'd get smacked with a homey sock and dumped over the border in Poland. You should try and get people to say it the right way, so that the Slovak players wouldn't have such an inferiority complex with it comes to their surnames (Which they do)
Craig:
According to him, it's Mez-are-os, not Me-say-ros. When he first came over, people were saying Mez-a-ros, but he corrected them.
Me:
'Corrected' is not the right term I'd use. That's like saying the North Pole is East of Canada and not West of Canada. It's still wrong!
I won't rest until people stop butchering and anglicizing our Slavic names so poorly.
---
Please, people...if you are going to 'correct' people on the pronunciation of a Slavic name, give them the RIGHT information or come to me. I'd be happy to educate the masses. Would you give advice on open heart surgery if you really didn't know what you were doing?
As you can see, I really do seem to be fighting a losing battle. Why would Andrej tell people to pronounce his name the wrong way? Maybe he needs to be smacked around with the homey sock of death? Has he given up the fight already? >:(
Maybe I should have completed that damn Amended Pronunciation Guide like the folks at McKeens challenged me to. Would it make a difference? What's it gonna take for you folks to smarten up?
(teardrop)
Comments:
David,
I know Doc asks arena announcers and PbP guys often, but I haven't heard him actually going to the players.
I know there are a few Slovak players that have an 'inferiority' complex (for lack of a better term) about it and are just happy that people recognize that they are alive. Really, many of them seem to be afraid of asserting themselves and forcing the issue...they are far too complacent in that way.
Ronald Petrovicky, when he asked in Calgary, basically said 'PET-ro-vik-ee' was OK, even though it's totally wrong!
Post a Comment
<< Home