Friday, September 30, 2005
Fantasy Hockey: Risky Rookies
I posted previously about selecting rookie players in fantasy hockey, but I'd like to expand on that with a bit of a look-back analysis.
I can understand why rookies are so enticing. They are shiny and new and have that new hockey player smell. What better way to show your knowledge than to pick some unknown or little known rookie that nobody else knows much about. I know I like following prospects and want to jump on the bandwagon somewhat when the players are entering the NHL. It's much more exciting cheering for some unknown commodity than picking some boring old guy like
Martin Lapointe
.
While other players in your fantasy pool are going to the established retreads that never pan out (
Valeri Bure, Dainius Zubrus
), you could get someone from under their nose that outperforms them. If you get a rookie that is hot early in the year, you'll likely be offered a trade or two that will allow you to trade for a player that is likely to outperform your rookie over the course of a season (Think of flipping someone like
Jason King
once he starts cooling down)
Aye, but are the rewards worth the risks? Let's take a look at the top scoring rookies from the past 3 NHL seasons.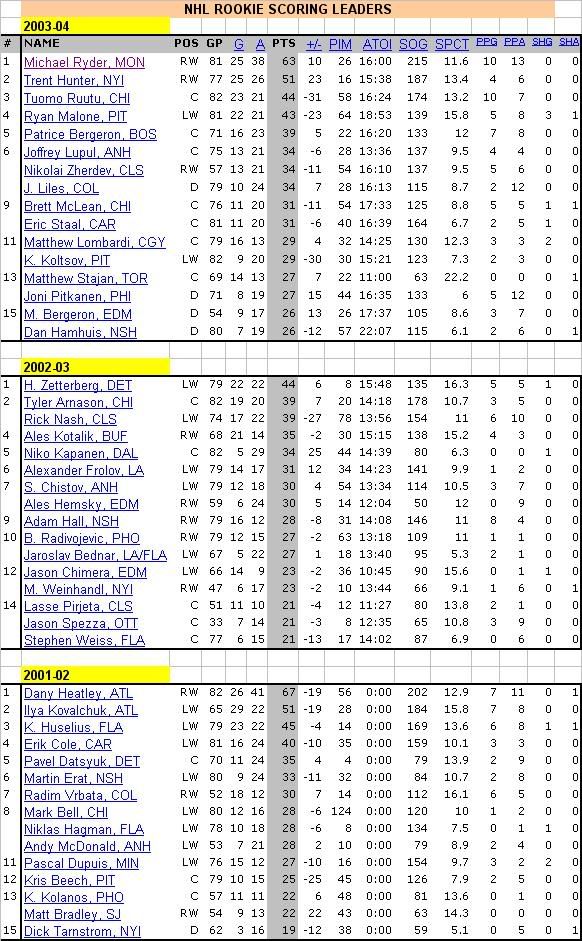 Only 4 players topped the 50 point plateau in the past 3 NHL seasons:
Ilya Kovalchuk
and
Dany Heatley
, who are incredibly rare and special talents, and the surprising
Michael Ryder
and
Trent Hunter
, both of whom were older rookies with some development behind them (both were 23 years of age that season).
It looks like most modern-day rookies fall between the 25-45 point range. Given that, I would expect
Alexander Ovechkin
and
Sidney Crosby
to bust the 50-point plateau. Who else? Maybe
Thomas Vanek
of Buffalo. Otherwise, I'd expect the 25-45 point range for most rookies and draft accordingly.
One other point I'd like to make is that many rookies will, obviously, make many defensive mistakes. Defensive mistakes can hurt your +/- and take away precious pool points. The older the rookie, the more likely their +/- won't be affected.
I'd also take a look at some of the rookie seasons of today's stars.
Markus Naslund
(Age 20) 71GP 4-7-11 -3 27PIM
Todd Bertuzzi
(Age 20) 76GP 18-21-39 -14 83PIM
Vincent Lecavalier
(Age 18) 82GP 13-15-28 -19 23PIM
Brad Richards
(Age 20) 82GP 21-41-62 -10 14PIM
Jerome Iginla
(Age 19) 82GP 21-29-50 -10 29PIM
Marian Hossa
(Age 19) 60GP 15-15-30 +18 37PIM
Martin Havlat
(Age 20) 73 19-23-42 +8 20PIM
Other than Richards and Iginla (who slipped to 32 points the following season), none of these other star rookies broke the 50-point barrier.
With the new NHL rules, and an extra year of development for some rookies, it certainly does throw a few extra variables into the mix. Still, the new rules will affect all rookies and all players, so you'd have to figure it's best to analyse players based on past trends rather than trying to just take a shot in the dark.
Comments:
I doubt Vakek will break 50 points. He is a pure goal scorer and simply just doesn't rack up many assists. He has a good chance to get 20-25 goals but maybe only 40-45 points.
I think Mike Richards has a chance to break 50 points because he is one of those guys who waited an extra year despite probably being ready last year. Plus he is going to be playing on a talented team in Philadelphia.
There is an outside chance that Brandon Bochenski will break 50 as well so long as his chemistry with Spezza (which he developed in the AHL last year) continues but my gut is that eventually Ottawa will move Alfredsson or Havlat up to the top line, especially on power play opportunities.
My pick for rookie of the year is Atlanta goalie Kari Lehtonen.
Post a Comment
<< Home