Wednesday, September 21, 2005
The Canucks get Cooke-d
With
Matt Cooke
and the Canucks finally agreeing to terms, everyone except
Artem Chubarov
(who's skipping along in Russia) is now in camp and the Canucks are ready to rox0r your sox0rs!
As Cooke's new contract giving him a $1mil per year raise, here is what the Canucks' financial structure looks like going into the season.
I am assuming that the Canucks will carry 21 players, with swingman/goon/pylon
Wade Brookbank
taking the 21st spot since he can "play" both forward and defence.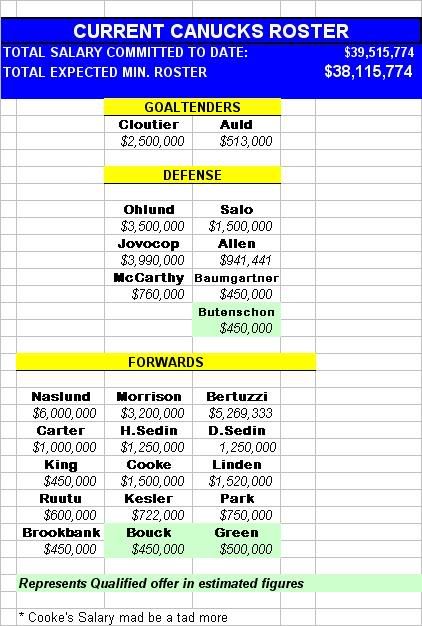 If the Canucks carry just 21 players, they will have less than a million of cap room at the start of the season. This cap room will basically be used for call-ups and doesn't allow the Canucks to add any extra oomph near the spring trading deadline. It's going to be a tight squeeze all season long, and the Canucks basically have to live with what they have now. Given that the defence is relying on one of
Sven Butenschon
,
Nolan Baumgartner
, or even
Jason Doig
...it's going to be a longshot at Lord Stanley's Mug. Just another first round exit :(
---
Training Camp Musings
: My co-worker attended a training camp session in
Whistler
and gave me some impressions.
i.
Anson Carter
looks slow and lazy, just as he did with the
Rangers
and
Kings
late in the 03/04 season. This signing looks to be blowing up in the Canucks faces as many other media members and internet fanboys aren't very impressed with what they have seen. $1mil for a big fat slug. Perhaps
Jason King
will be re-united with the Sedins, after all.
ii.
Richard Park
was uber-impressive with the quickness and the hustle. The boy can fly and he works hard...call him the anti-Carter. I am thinking that perhaps Richard Park should be given a chance to play with the
Sedin
twins. Why not? Why does it always have to be a big and/or gritty winger? Park's speed and hustle could fit very well with the Sedins, who are already proficient at cycling the puck. Park has shown offensive ability in the minor leagues, so it is not as if he's got stone hands.
iii.
Jason Doig
has a wrist/elbow problem and he couldn't take any slapshots. He was reduced to taking floating wristers from the blueline. Well,
Marek Malik
has had a good career and I don't recall him taking more than 1 slapshot per season. If you have a good wristshot and can get it off quickly, it can be a more potent weapon than the often overrated slapshot.
Comments:
I forgot to correct the GREEN field description. In this case, those are players I expect to be demoted to start the season. The salary figures are the real figures, but do not count against the $38.1 mil figure I have calculated.
Post a Comment
<< Home