Monday, August 15, 2005
Nashville: From Prey to Predators
A lot of press has been given to the up and coming
Nashville Predators
this off-season. As a
Blues
fan and a
Canucks
fan, this team definitely makes me nervous and jealous. All of Nashville's building the past few years is finally coming to bear fruit and the future looks bright for this club.
The Predators' fans can be happy that their current roster is supplemented by a good stock in the prospect ranks
.
Hockeysfuture.com ranks Nashville #5
in the NHL and lists
Ryan Suter (#9)
and
Shea Weber (#48)
among the Top 50 prospects.
Together with
'ladypredator'
, I have come up with a snapshot of what the Predators current roster/depth chart looks like as of today.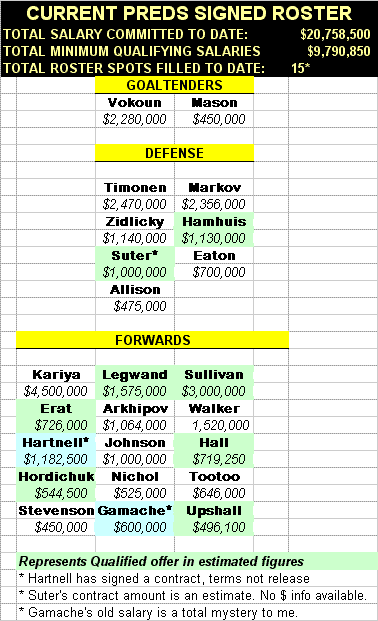 Goaltending:Tomas Vokoun
gives the Predators a world-class goalie who can thrive behind a young team with his acrobatic style. His teammates have loads of confidence in his abilities and he's very capable of playing a heavy workload. Behind him sits
Chris Mason
, who is the typical 'New NHL Backup': A guy who makes $450,000 and plays about 10-15 games. Mason is an average backup goaltender, but not the type of goalie you want to have around if your #1 starter ever gets injured.
Brian Finley
- Here is a perfect example of two things. First, goaltenders have a long development curve and take longer than any other position to develop into an NHL +impact regular. Second, never give up on your goaltenders too soon. Tomas Vokoun was a perfect example of a goaltender who took a long and winding road to the NHL and Finley seems no different.
After being selected 6th overall in the 1999 draft, Finley was beset by injury after injury and his career looked in doubt. Finley missed the entire 2001-02 season with a severe groin injury and played only (rather ineffective)
57 games in the 3 seasons after he was drafted
. It looked like Nashville had a real bust on their hands.
Finley recovered nicely in 2003-04 with the AHL Milwaukee Admirals with a 2.34GAA and .918 SV% in 43 games and then exploded with a sparking 2.29GAA and .921 SV% in 64 games for Milwaukee last season. At the age of 24, Finley's career is back on track and he looks like the future #1 starter that Nashville always envisioned.
Defence:
A heavily offensively talented group that could take great advantage of the new NHL rules. Youngsters
Shea Weber
,
Ryan Suter
, and
Dan Hamhuis
will look to get and cement roles with alongside the veterans. The Predators took great advantage of the Flyers' need to cut salary by obtaining the physical
Daniil Markov
for just a mid-round draft pick. Markov gives the Predators that big physical defenseman they needed since the big Latvian
Karlis Skrastins
is no longer around. Still, the Predators will have their troubles against big and physical forecheck-oriented squads. I like the skill that this group has, and it would be nice if Shea Weber could develop into a
Scott Stevens
clone as soon as possible.
Forwards:
With the addition of a proven offensive performer like
Paul Kariya
, the Predators have great positive-impact depth on both wings. The big black hole is right down the middle, where Predators fans have been clamouring for GM David Poile to sign one more good centerman. The Preds lost out on one decent talent as Florida picked up
Chris Gratton
for $900,000 over the weekend.
David Legwand
has disappointed with his lack of offensive output, but he's a good 2nd line center type. He should fit in OK with Paul Kariya as he can play a similar style to that of
Steve Rucchin
. Johnson is a 'decent' 3rd line center, while
Scott Nichol
can fill in the 4th line position with some adequacy.
The
BIG
question is whether
Denis Arkhipov
will give the Predators that big 2-way impact centerman who can provide 55-60+ points. After 2 decent seasons in the NHL, Arkhipov entered into the 03-04 NHL season centering the infamous "Vowel Line" with
Vladimir Orszagh
and
Martin Erat
. Arkhipov was expected to be the best out of that bunch, and he turned out to be the worst of the lot. Arkhipov finished with
just 21 points in 72 games
that season and somehow found a way to 'de-progress' himself to the point where the team wanted to demote him.
Arkhipov spent last season in Russia with Kazan (17 points in 45 games) and many Preds fans wish he would stay there. While he is under contract for one more season, there is the question of whether the Predators even want him over here. There was talk that Poile would demote Arkhipov if his play didn't improve drastically, and there would talk that Denis didn't really want to come back.
Given the Predators lack of depth at center, all signs seem to point to giving Arkhipov one more chance. I'd be shocked if Denis could get over 45 points, but that is what the Predators need.
What else can they do?

1. Pray that
Simon Gamache
(86 points in 80 AHL games last year) turns into Vincent Damphousse-lite and forces the Preds to use him as a top 2 center.
2. Shift
Steve Sullivan
from RW back to C, where he played before. Sullivan's lack of size and defensive ability would make this option less than appealing.
3. Find an unrestricted option - Travis Green, Vincent Damphousse, Kamil Piros, Esa Pirnes, Yanic Perreault, Cliff Ronning? Ok, maybe not...
Payroll Outlook
- It looks like the Predators will have to commit between $30-31 mil for their opening night roster. This gives the Predators some room to add another impact player either now or later in the season through a trade. There is talk that
Vladimir Orszagh
could re-sign with the club later in the year when he is fully recovered from his severe knee injury.
The salary is spread rather nicely between the roster with Steve Sullivan and Paul Kariya taking home the biggest strips of bacon. David Poile still has some work to do as a few key cogs such as Martin Erat, David Legwand, and
Adam Hall
remained unsigned. The payroll could be pushed up to $32 or $33mil before opening night.
Overall, the Predators have a pretty good team on their hands and room to fill in a couple of weak spots with a good centerman and a positive-impact physical defenseman. Poile has set his club up well and the team is chalk full of young players, many entering or already in their prime...a good mix of not-too-ancient veterans and young whippersnappers. This is not a team that should be taken lightly any longer.