Wednesday, August 03, 2005
Free Agent Frenzy: The Big Blue Bombshell
After a couple days of Free Agent Frenzy, it's obvious that the new CBA is not idiot-proof, as
Gary Bettman
had intended. You just can't legislate stupidity, or lack thereof.
Case in point: Glen Sather
. It's obvious that he is not the man he was in his Oilers days (where his initial drafting boon, trading acumen, and luck created his dynasty maked his many weaknessess).
Marek Malik
, a lovable ogre who has been a solid citizen for the Canucks for a few seasons, was signed to a
$7.5mil/3yr deal
! $2.5 mil per season for Marek 'Harry Munster' Malik?
As
Tom Benjamin
might suggest, Malik is a very good candidate to flounder in a situation where he is out of his element. With the Canucks, Malik was used perfectly and his weaknessess were masked while his strengths (mainly his long reach) were exploited for the benefit of his own team. Overall, Malik is an
AVERAGE
NHL defenseman. Do
AVERAGE
defensemen deserve $2.5mil a season? Only if you are in
New York
, where there isn't a dollar that doesn't seem to be foolishly spent.
Then, there is the case of
Martin Straka
. At a 1-year deal, Straka isn't much of a risk...until you start paying him $3mil for that year.
Straka has missed 119 games in the past 3 NHL seasons
, and is more brittle than 3-year old gingerbread (He had his injury problems in Czechia last year, too). His production in 03/04 (26 points in 54 games) was the continuation of a downward trend and his defence is below-average these days. The smart GM would have given Straka an incentive-laden deal or no deal at all. The Rangers took a big gamble and it has more chance of causing harm than good.
The Rangers still need to find a good goalie, as
Kevin Weekes
is not going to lead that team to the playoffs...good luck, Glen.
Back to the Blues, the team which has had nothing but bad news, for the most part.
Trent Whitfield
?
Aaron Downey
? Those guys are the bottom of the barrel and are not going to help the Blues
Imagine the elation Blues fans felt when Larry Pleau managed to
swing a deal with one of the few GMs dumber than he is
:
Kevin Lowe
.
The St. Louis Blues have traded Chris Pronger to Edmonton for defencemen Eric Brewer, Doug Lynch and Jeff Woywitka.

TSN has learned that Pronger, the NHL's most valuable player and top defenceman in 2000, has agreed to a five year contract extension worth $6.25-million per year.
For a team in a bind like the Blues were, this deal is excellent. The Blues get a 26 year-old defenseman who has played with Team Canada and will only get better as he matures. I know
Eric Brewer
has frustrated Oilers fans at times, but he is still one of the better young rearguards in the game. The Blues also got one of the better defensive prospects in the game in
Jeff Woywitka
, and a decent depth defenseman prospect in
Doug Lynch
. Trading Pronger's big contract for a great defenseman in his prime, and two solid prospects was more than I ever expected out of Larry Pleau.
Now, Larry needs to sign Eric Brewer to a long-term contract since he is an RFA. Woywitka and Lynch will also challenge for roster spots, though their salaries aren't yet determined. At the very least, the Blues put some stock on the prospect shelves and get a pretty good replacement (less the great offence) for Pronger.
Here is the updated roster for the Blues, with the minimum salary the Blues would pay under a 'Qualifying Offers Accepted' scenario.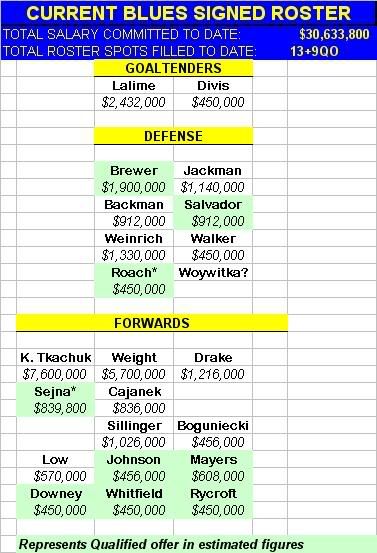 I wouldn't expect Brewer and Salvador to accept the absolute minimum, but the Blues suddenly have a lot more salary cap room to work with. Pleau needs to go out and find 2 more good wingers in order for this team to compete.
---
QUICK HITS!
I am perfectly at peace now with the Pavol Demitra signing. I knew, for over a year, that Demo wouldn't be back with the Bluenotes. I also expected Demo to end up in LA, so now I can move on with my life and buy tickets for the next Canucks home game against the Kings. Pavol will be a great fit with the Kings, and his $4.5mil/year salary is perfectly reasonable for his production level. This deal does not preclude the Kings from signing Palffy and Stumpel, as both of those guys are still talking to LA. If these two can sign with the Kings, LA would have a nice Slovak mafia and a good one-two-three punch up front with Visnovsky QBing the Power Play.


The Flyers and Bobby Clarke seem to be banking on the new NHL being just like the old NHL. How else can you explain the fact that they signed big, slow, and beefy defensemen Derian Hatcher, Chris Therien, and Mike Rathje (Well, Rathje is an OK skater, unlike the other two). If this was the NHL was always knew and didn't love, this defence would scare other teams. Now, with the opening up of the game (hopefully), the Flyers could easily be exposed against faster and more aggressive teams. Michal Handzus could play 30 minutes a night with all of the Penalty Killing he'll be doing.
On the other hand, would you want to get within 10 feet of the Flyers net?
I hope this experiment fails for Philly, because it would mean that you can't just rely on big slow defensemen who rely on nasty stickwork to 'skillfully' play defence.


Nashville benefitted greatly from Philly's size obsession as they traded a 3rd round pick for Daniil Markov. Markov will add a nice physical element to a defence that has smaller guys like Kimmo Timonen and Marek Zidlicky. With Ryan Suter, Shea Weber, and Dan Hamhuis on the horizon, the Preds really have a great situation for their defensive corps.


Carolina also made a nice signing when they picked up Cory Stillman. I know Stillman is a frustrating character who often turns invisible during big games (just 23 points in 53 playoff games), but the Canes would be happy just to make the playoffs. Stillman can play all 3 forward positions, he's offensive productive (80 and 67 points the last 2 NHL seasons, respectively), he's physical and dishes some hits, and he can kill penalties. Depending on the dollar amount, it looks like GM Jim Rutherford has done the unexpected and made a good move for his club.


The Calgary Flames also made a couple of great low-budget signings when they picked up Darren McCarty ($1.6mil for 2 years) and Tony Amonte ($3.7mil for 2 years). McCarty, at the price, is a great addition to ANY club. Amonte, who reminds me of a late-career Russ Courtnall, should provide at least 45 points to the Flames, if not more. For that price, there is more to gain than lose from bringing the speedy Amonte aboard.


Many pundits have lauded the Thrashers for signing Bobby Holik to a 3-year deal ($4.5mil for the first season!), but it looks like Holik has gone from an overpaid Ranger to an overpaid Thrasher. Life must be good for Holik...getting bought out by the Rangers and then getting a big deal from the Thrashers. I expect Hartley will use Holik a lot better than the Rangers did, but Holik is still a 3rd line center who is getting paid the same money as Pavol Demitra. Thumbs down on the price!
---
Today's Breaking News
1. Markus Naslund has signed a 3-year deal for $18mil. I know this might not make 100% business sense, but I am certainly happy to have Naslund back. I guess he was brought to tears by all those love letters we wrote ;)


2. Jerome Iginla has signed a 3-year deal with the Calgary Flames for $21mil. Naslund set the price for top-tier snipers, and Iginla followed suit and got the big deal he expected. If any player deserves a $7mil a year salary, Iginla, a complete player, would be it.


3. For all of the "Players want to play with Crosby hype", the Penguins finally delivered and signed SERGEI GONCHAR to a 5 year/$25mil deal. At those figures, does it look like Crosby was the deciding factor for Gonchar? I'm pretty sure he'd sign with the Penguins at that salary, even without Kid Cros. A power play with Dick Tarnstrom (if they get him signed) and Sergei Gonchar at the points = deadliness...throw in a dash of Lemieux, a pint of Crosby, and a sprig of Recchi...damn.

Comments:
Hey Jes.
It's Big Dan.
I agree the Blues absolutely raped Lowe. They got more than they ever imagined for Pronger.
Suddenly, the Blues have a solid defenseman in his prime and two with promise.
Note that Doug Lynch is a little bit better than Woywitka. Woywitka is far more hyped but Lynch has more stickhandling abilities.
That being said, this move was good for the Oilers too for reputation's sake only.
Also, Brewer keeps trying to squeeze every penny out of Lowe every summer. Lowe probably got tired of it. It will probably take at least $2.5 million for you to sign Brewer.
For those of you worried that the CBA would dismantle the Canucks can rest easier now that they've re-signed Naslund.
Who's next? Could Naslund pursuade Forsberg to wear a Canuck jersey this winter?
Sure, their PP is going to be nice but Fleury's going to crack if they play him like that again. Recchi, Crosby, Lemieux, Gonchar and ... Andy Chiodo. Huh.
Post a Comment
<< Home