Friday, August 05, 2005
Flaming with Jealousy
I was dicussing hockey with my co-worker the other day
(what? and you don't talk hockey at work?),
and we agree that Canucks GM
Dave "Rip Van" Nonis
seems to be doing quite a poor job and he's letting opportunities slip by. Other than giving away
Brent Sopel
to the
Islanders
(To clear ~$800,000 in cap space? Wut da hell??)
and signing
Markus Naslund
, Nonis has done very little to inspire confidence during his tenure as GM of the Canucks.
(For more on the idiocy of Dave Nonis, Tom Benjamin and the Knights of Darkness have a good discussion about it
here
.)
I know I said that certain GMs could be smart by laying low this offseason and waiting until next year, when the market is flooded and other teams will be too tied up to compete for the good free agents. At the same time, there is something to be said with being smart and aggressive.
Case in Point: The Calgary Flames
.
It's quite frustrating watching a division rival make some great budget signings like
Tony Amonte
and
Darren McCarty
. Add to the fact that they locked up Iginla and Leopold, and the Flamers appear to be in great shape while the Canucks have more question marks than The Riddler's outfit. Why can't Nonis get in on this action?
Let's look at the Flames roster as it stands now: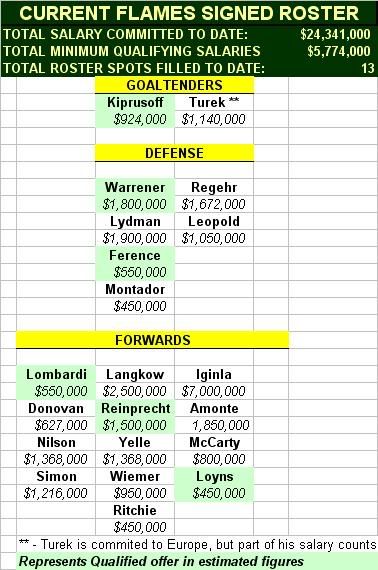 (Yes, the roster spots filled to date should be 14...and Turek doesn't count)
The Good:
Their forward corps is pretty much settled and they may need just one more player up front. Their defence is also settled nicely and just needs a #5-6 guy who is competant enough not to lose to
Glen Sather
in a game of Scrabble. For an in-house solution, prospect phenom
Dion Phaneuf
could very well fill that hole and do a fairly good job of it.
The Bad:
Right now, the Flames have
0
playable goaltenders signed. Turek is back in Czechia, and will suck up $1mil just to play at home, leaving Kiprusoff and ??? as the netminders. The Flames will have to give a nice raise to Kiprusoff, who turned into a Vezina-quality goaltender in his short time with the Flames.
The Flames have 6 qualifying offers (RFAs) to deal with, and they will have to commit at least $30mil in salary, but more like $31-32mil to get all of their RFA signed. The Flames will have to be careful when filling any remaining holes, leaving some payroll cap room for any late-season additions.
Thirdly, the Flames really do lack some oomph after Iginla, Langkow, and Amonte. Reinprecht and Lombardi will be counted on to improve 'naturally', but the Flames could really use one more talented forward.
Lastly, I do notice the Flames spend an awful lot of money on their 3rd and 4th liners.
Chris Simon, Jason Wiemer, Stephen Yelle
, and
Marcus Nilson
all make pretty high salaries for the roles that they play. The Flames are kind of stuck with these salaries for now, and they aren't getting good value out of their depth players.
Overall, the Flames are looking nice and comfortable compared to most NHL teams. They have a fairly young roster, in-house options to improve naturally, and can focus on their own RFAs without worrying about the UFA market much anymore. While other teams scramble to fill out a large chunk of their rosters with free agents, the Flames have plucked out 3 key UFA signings that are of good value and plugged the few holes that they had up front.
Yeah, I'm jealous, although I don't think the Flames are the great cup contenders that some pundits believe they are...they still are a good team and tough to play against. :(
---
The Crosby Show!
I value what little sleep I get, so I didn't stay up last night to watch
Sidney Crosby
appear on
Jay Leno
.
Michael the Hockey Fanatic
, on the other hand, would stay up until 3AM to watch Mario
Lemieux
give tips on tying skates.
Michael watched Crosby on Leno, and gives his impressions
here
. I'm just glad Crosby didn't bomb like
Wayne Gretzky
on
Saturday Night Live
, though I wish Crosby would have bodychecked
Deuce Bigelow
through a wall of glass. That would have been funny.
TSN also provided a
transcript
of sorts. It may have been a 'blah' appearance, but any exposure the NHL can get like this is a GOOD thing. I'm sure Crosby will get more chances to appear on non-NHL shows and he seems to have the ability to handle it with ease.
Comments:
I didn't think Crosby's appearance was "blah" at all. There were far more opportunities for that thing to be screwed up, and IMHO, it was not, despite the presence of Rob "Deuce Bigelow" Schneider (BTW, as I said in Michael's blog, that film franchise *must* die. I still can't believe they made a sequel...didn't the first one bomb?!) Overall, I give Jay and Cros an A, and Rob a C-.
Post a Comment
<< Home