Thursday, August 18, 2005
A Cursory Look at the Vancouver Canucks
It's time to take a closer look at my hometown
Vancouver Canucks
, now that
Dave "Rip Van" Nonis
has actually been doing some work lately and getting some of the players re-signed.
Nonis also dipped his hand once more into the bargain bin and pulled out one
Anson Carter
at a price tag of $1mil for 1 season.
Up until his complete collapse in 2003/04,
Tarantula Head
(as my friend, Duc, calls him) was pretty consistent as a decent 2nd line offensive forward that could be counted on to produce at a pace of 50-60 points a season.
99-00
59GP 22-25-47 +8 14PIM
00-01
61GP 16-26-42 +1 23PIM
01-02
82GP 28-32-60 +3 25PIM
02-03
68GP 25-30-55 -11 20PIM
03-04
77GP 15-13-28 -15 20PIM
Carter completely collapsed in 2003-04 as he was traded twice (from the
Rangers
to the
Capitals
to the
Kings
) within the same season and was a total bust for all 3 teams. He's a big, frustrating winger that doesn't often give a great work ethic and uses his size more for creating offence rather than punishing opponents.
Positives:
A good skater who doesn't take bad penalties and is a good 2nd PP unit option. Can play well with other skilled players and has International experience with Team Canada
Weaknesses
: Carter gets injured often and can be a big marshmallow when he does play. He's not a guy you can count on at any one point of any one game, but rather a guy you just expect to get his share of points as a member of the 2nd line.
For $1mil and just 1 season, Carter is an acceptable gamble that could pay off well for the Canucks if he returns to his old form. It is expected that he will fight with another frustrating big offensive winger,
Jason King
(aka
Brian Savage II
), for the open spot on the Sedin's line.
With the Carter signing, it's time to take a look at the Canucks roster and current salary situation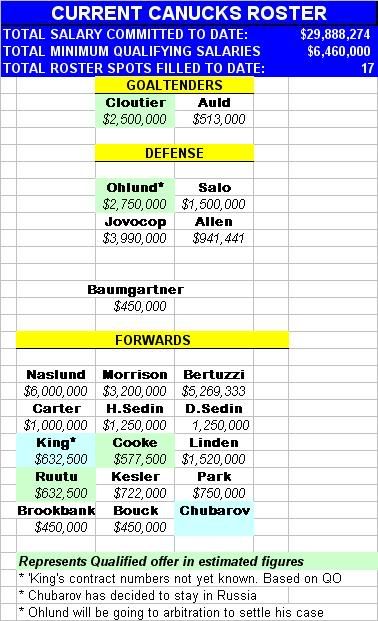 RUH ROH!!!!!

This does not look good. The Canucks have a minimum salary commitment of
$36.3mil
, at the very least, if they want to keep this roster together.
1.
As you can surely see, the Canucks have only 4 legitimate NHL defensemen. The only way that
Nolan Baumgartner
should ever touch the ice at
GM Place
is during the
Canucks Family Skate
and the
Skills Competition
. There are no real options in the minors, as prospects like
Tomas Mojzis,
Kirill Kolstov
, and
Kevin Bieksa
are not even close to being ready. The Canucks have very little room to add 2 legit NHL d-men and the market is drying up.
2.
Even the $36.3mil is going to shoot up as
Mattias Ohlund
(the true lynchpin of the Canucks D) is going to get a raise in arbitration and Ruutu, Cooke (due for a nice raise) and Cloutier still have to sign on the dotted line (although the Canucks would be better off just letting Ruutu rot in hell).
3.
As awesome as our first line is, it's never easy to construct a good team when one line makes
$14.5 mil
and you are capped at around $39mil. We may see more of a gap between the haves and the have-nots as the New NHL and the new CBA rolls on.
With the Canucks on the
Highway to the
Danger Zone
, it's no small wonder why the trade rumours and other BS is starting to heat up the airwaves, newspapers, and computer screens.
Here's the latest crazy rumour from
Spector's
:
TEAM 1040/MOJO 730 (VANCOUVER) : reported the following wild rumour has been making the rounds involving a major deal between the Florida Panthers and Vancouver Canucks. Apparently first reported on a South Florida sportsradio station, the trade (in its various incarnations) would the Canucks ship a combination of Ed Jovanovski, Dan Cloutier, Jarkko Ruutu, Matt Cooke, and either prospect Ryan Kesler or a high draft pick to the Panthers in exchange for Roberto Luongo, Jay Bouwmeester, Kristian Huselius and a conditional pick.
Roberto Luongo
? This must have come from a Vancouver radio station.
You can see why you will see more rumours of the like in the next few days.
Ed Jovanovski
has a high salary and will be an
Unrestricted Free Agent
next year. The Canucks desperately need to clear some salary room, and Jovocop is one hell of an asset to dangle out there.
Oh, I do know of one pretty solid 2-way defenseman who put up 42 points in 80 games last year and the Canucks could have had for free. His name?
Brent Sopel
. I'm still scratching my head at how the Canucks could simply give him away for almost nothing. The money they spent on Carter would have been better spent on Brent Sopel.
(I see Sportsnet.ca lists his new salary as $2.4mil a year, which was double the $1.2mil that was reported yesterday. Can these guys get anything right?)

What else is out there?
Scott Lachance, Pavel Trnka, Steve Poapst, Jamie Pushor
... one of these could be decent if the price is right. There are enough d-men out there to fill out the #5-6 positions, although it won't be pretty.
It's going to be an interesting period in the next few days/weeks as Nonis may be planning something big.
(Edit: Sportsnet.ca
'reports'
that Dan Cloutier has signed a $5mil/2 year deal. This would mean his salary figure would be the same as his qualifying amount. Of course, we know Sportsnet gets thing wrong on occassion.)
Comments:
The rumoured blockbuster trade wouldn't help our defense, but Luongo has done exceptional things playing behind an AHL defense in Florida ;) He could make 50 saves a night and let the offense take care of business. The money the Canucks might save would help buy those #5 and
The Pronger/Jovo to Keenan rumours really start because 'they make sense'...just like most trade rumours. Most NHL GM's would love to have Chris Pronger, but that doesn't mean Keenan will go crazy trying to get Jovo...well...check that, we saw Keenan do some whacked out stuff when he was GM of the Canucks.
The Panthers are making the BIG mistake of playing games with Luongo, the one player on that team they should be bending over backwards for. It's not just the money, but the fact they are willing to go to arbitration and piss Luongo off that will hurt the franchise in the long run.
Maybe I should do one of these analysis for the Canes in the near future. I know and talk to some Canes fans, so I've been getting to know that team a bit better.
Post a Comment
<< Home