Friday, August 26, 2005
Canucks Cap Cooke-out
With the
Vancouver Canucks
signing
Mattias Ohlund
to a 4-year deal, and
Dan Cloutier
locked up for 2 more years (or are the fans the ones in a prison on that one?), the Canucks roster is almost set for this upcoming season and GM Dave Nonis doesn't have much room to wiggle under.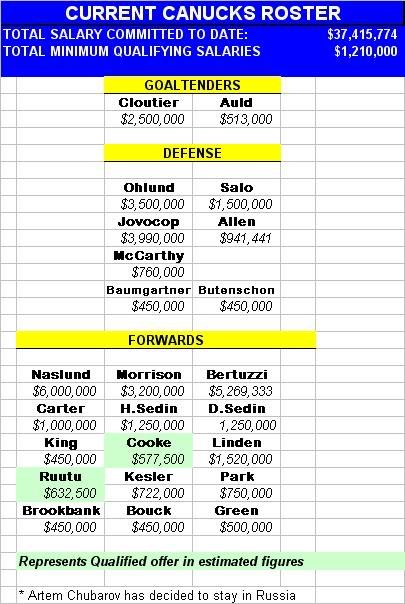 The Canucks sit at $37.4mil (minimum salary commitment needed) with both
Matt Cooke
and
Jarkko Ruutu's
contracts unsettled as of yet. If the Canucks want to resign both and get one more decent blueliner, they really don't have much margin for error.
If I were the Canucks GM:

1.
I'd let
Jarkko Ruutu
go. Let him go for nothing or trade him for a breakfast burrito and large coffee. I've already argued how Ruutu hurts the Canucks by simply being on the ice…so why not do a little addition by subtraction? The Canucks can play a
Josh Green
or a
Tyler Bouck
and save about $100,000. This may not seem like much, but you have to manage every single dollar in a marginal-benefit method under a CAP system. Why pay more $ to Ruutu when you get the same calibre of play from a cheaper player?
2
. Re-sign
Matt Cooke.
His contract demands don't seem to be outrageous, and he really is important to the Canucks as a player who can hit, check, score the odd goal, and play both wing and center. Cooke is quite versatile and more valuable than non-Canucks fans would realize.
3.
Demote 1-2 players. The Canucks only need to carry 22 players to start the season. They can call up anyone from the farm in case of injury, but any salary carried on the pro roster at any time counts towards the overall $39mil cap. I would send Butenschon or Baumgartner and Bouck or Green down to snowy Manitoba.
4. Sign
Scott Lachance
– If the Canucks have any cap room left, they really need to sign a cheap defensive defenseman who can play 50-60 games and not suck like a late-career
Mark Messier
.
Murray Baron
? As old and slow as he is, I'd take him over Baumgartner/Butenschon.
In any event, Nonis will have to do a bit of ballet dancing as he is hovering dangerously close to that $39mil figure and has one more important cog to deal with before the Canucks can move on with the 2004-05 season. I'll give credit to Nonis for doing a fair job thus far. In my opinion, Nonis hasn't been great, nor he has been poor…the Canucks look good heading into the season, and this will be their best shot at the Stanley Cup until Jovocop leaves one way or another.