Tuesday, August 16, 2005
Calgary Flames: The New BIG Market
After the
Tampa Bay Lightning
skated about the St. Pete Times forum with the Stanley Cup, I figured the
Calgary Flames
were the typical one-year fluke finalist akin to the
Florida Panthers
,
Carolina Hurricanes
, and
Anaheim Mighty Ducks
. The Flames have a good young defence, but a shaky forward corp and lack of quality depth up front was hard to look past. As good as Kiprusoff was, he's been a great NHL goalie for just half a season.
(and if Todd Bertuzzi wasn't suspended, maybe the Canucks would have won the First Round...or maybe Bert would have taken 15 bad penalties. Who knows? Who cares?)

Now that the new CBA has given rise to a new order, the Calgary Flames have been spending some of that playoffs windfall and are suddenly becoming the league's big spenders. Who would have figured that the Flames would be signing Iginla to a 7mil/year deal and going aggressively after free agents like
Daymond Langkow
and now
Roman Hamrlik
?
(As an aside, I think the Flames should have spent the money on getting another GOOD forward, since Hamrlik was awful for
Zlin
last year and has declined rapidly. Hamrlik doesn't seem like a Sutter-type player, so this could backfire somewhat)
A combination of big, small, and medium free agent signings has left Calgary in a very enviable position as they try to defend their Western Conference champion status. The young players on the roster, such as
Jordan Leopold, Robyn Regehr,
and
Matthew Lombardi
, will only continue to improve and help the Flames hold a legitimate spot as one of the new powers in the West.
GM
Darryl Sutter
has been doing an exceptional job this offseason and the Flames now have
0
Restricted Free Agents to deal with. The only question/rumour/whatever seems to be that defenseman
Toni Lydman
(not a Sutter favourite, it seems) and the fact that he will likely be traded to make room for
Dion Phaneuf
and save on some salary.
Let's look at the Flames as of today...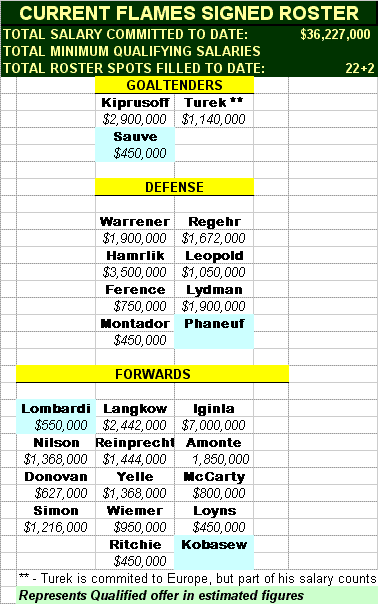 The Flames are now sitting at $36mil+ on the payroll and will be one of the bigger spenders under the new CBA system. Even if the Flames dump Lydman, Phaneuf's contract will take up a big chunk of that savings. I am not sure of Lombardi's contract numbers or Sauve's, so that $36mil number, when the season starts, probably won't go much lower than that.
The one potential weakness on the Flames roster continues to be lack of quality 2nd tier depth. While
Chuck Kobasew
was a monster last year in the AHL (
75 pts in 79 games
), he has to prove that he can translate that into scoring at the NHL, lest he become the next
Stephen Guolla
.
Marcus Nilson
had a breakout season last year in Sweden with
39 points in 48 games
and could, perhaps, turn from a pure checking-line player into a position 2nd liner this season. The 5'11" 191
Matthew Lombardi
also has a lot of offensive talent and the Flames will hope the new NHL rules will help a guy like him excel.
If the Flames can get some real production from two or three of these fellows, Amonte, Iginla, and Langkow should be able to provide enough explosive offence to give the Flames a total offence that will scare most teams. The Flames already have a great defence, excellent grit and tenacity, and, if all goes right again, great goaltending. Adding some real offensive pop to that backbone makes this Flames an awfully scary team.
I haven't thought of my predictions yet, but the Flames definitely look like they belong near or at the top of the Western Conference.
(Edit: TSN.ca no longer lists Roman Turek's salary figure as counting against the Flames cap. This would be great news to the Flames if the money they owe Turek isn't counted against their cap. I don't know the CBA enough to know what the dealio is with this whole scenario, so I'm relying on TSN to get that part right.)
Comments:
After Turek "retired" from the NHL last week, does part of his salary still count? I'll freely admit that I understand all the new financial rules not one bit, but I (perhaps mistakenly) got the impression that the retirement changed things a bit.
Also- completely off-topic, but as you're the Balastik expert... any news on whether he'll come over this year? I've seen a few articles recently on hokej.cz, but my Czech's sparse and they only seemed to indicate that a) Columbus wanted to talk to him and b) the IIHF deal breakdown might affect him.
Sorry for the long post- love the site!
Post a Comment
<< Home